Waco Wild West Bicycle Tour Waco Wild West Bicycle Tour
The Waco Wild West Bicycle Tour has made a tradition of great rest stops and super rider support will return for 2017. This is one event you don't want to miss! There is a tour for everyone.
A family tradition for people all over Texas, the Waco Wild West 100 has been around for 33 years. That's a lot of candy! All volunteer driven and a 501c3 nonprofit, the ride's goals are to encourage and motivate people to cycle, to promote safe riding and camaraderie, as well as to donate to local nonprofits. Each rest station is manned by groups that contribute to our community and receive a small amount of the funds in appreciation for their supporting you on the routes. Additional funds raised over the years have been donated to Be the Match, our local bike club, veterans, our remote radio operators, school bike rodeos, and many, many more worthy causes. We look forward to the contributions we will be able to make with this year's ride!
8:00am
Saturday, October 7th 2017
Washington Street in front of the Waco Convention Center
Proceeds from this ride benefit the Be The Match Registry®
and various other local organizations.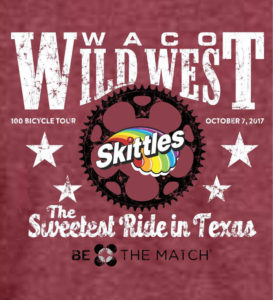 Register EARLY to Guarantee you get a T-Shirt. Late Registration T-Shirts will be first come first serve.
The first 500 registrants receive our commemorative pilsner glass that, like Skittles, are in the colors of the rainbow!
Check out our

2017 jersey. The pre-order deadline has passed but limited sizes will be available for purchase on ride day for $75 (XXXL and larger are an additional $10).
The bicycle tour will take place rain or shine.