Man Licking Ice Cream Container In Copy Cat Video Arrested
A "copycat" ice cream licker was arrested in Louisiana over the weekend after he was caught on video allegedly licking ice cream in a grocery store and putting it back in the fridge.
Lenise Martin IIIwas taken into custody after a video of him began circulating online apparently showing him doing exactly what had been done by a girl in a Texas Walmart. Martin appears to open a tub of ice cream, lick it, touch it with his finger, and then place it back on the freezer shelf.
Investigators say that after management became aware of the video, Martin returned to the store and showed the clerk a receipt to prove he'd purchased the ice cream. 
Martin was charged with criminal mischief and unlawful posting of criminal activity for notoriety and publicity and remains in jail. 
Police are discouraging others from such copycat acts.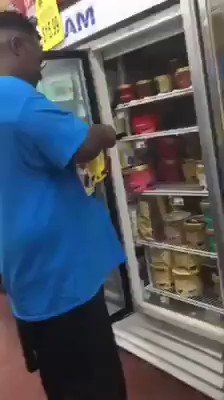 Mrs. Franklin@Ms_Pisces_Slay
This done gotten out of hand. Now his old ass should know better@ILoveBlueBell@WAFB@Kiran_WAFB
191
12:39 PM - Jul 7, 2019
306 people are talking about this

Optimus Primal@BlindDensetsu
What kinda psychopathic behavior is this?!
69.8K
8:02 AM - Jun 29, 2019
39.9K people are talking about this
Source: Fox News