Kathie Lee Gifford praying for Matt Lauer after 'Today' show firing
Kathie Lee Gifford said she was leaning on her faith to cope with the news that "Today" host Matt Lauer had been fired Wednesday morning amid a complaint that he was sexually inappropriate with a female staffer.
As her hour of the "Today" show began at 10 a.m., Gifford sat beside longtime co-host Hoda Kotb, who had first announced the news alongside Savannah Guthrie at the show's earlier start.
Gifford appeared stunned with a tissue in her hand as she sighed before launching into her thoughts.
KATIE COURIC IN 2012: MATT LAUER PINCHED HER 'ON THE ASS A LOT'
"I don't feel that Matt has betrayed us," she clarified before opening up about how she dealt with her husband's widely reported infidelity. "You question your own judgment. You say, 'Was everything a lie?' And I think we have to fight against that."
Of Lauer she said, "I texted him this morning and I said 'I adore you'… And no person is perfect in this world… We've all sinned and fallen short of the glory of God..."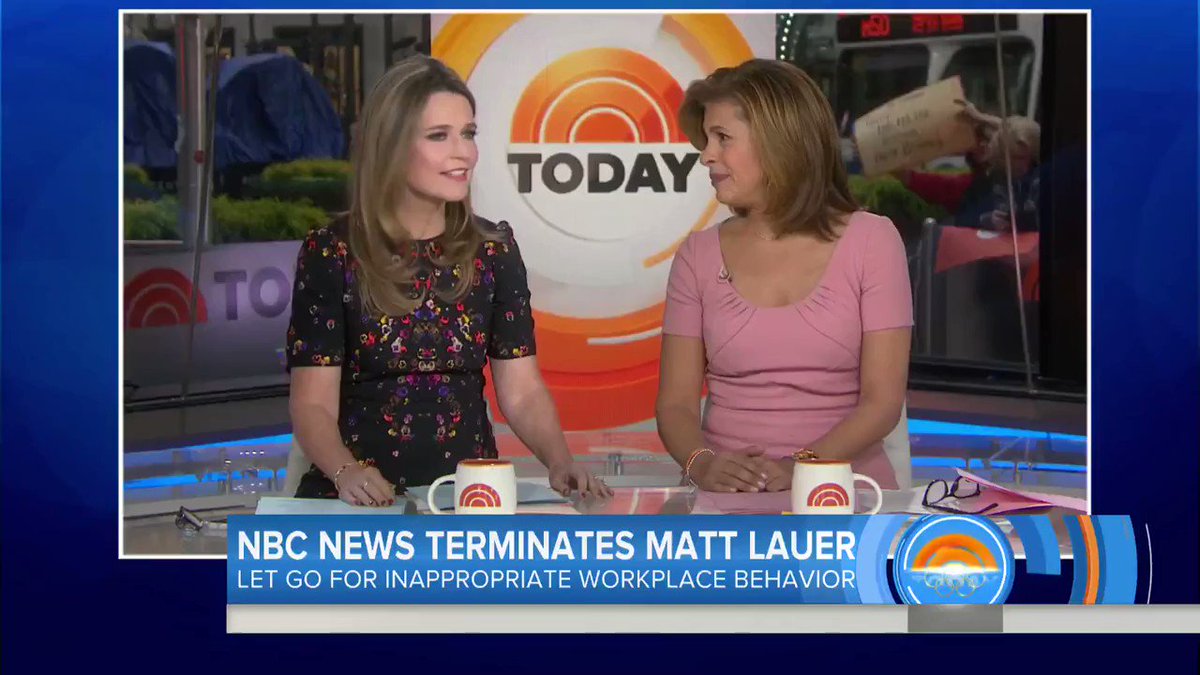 Kathie Lee and Hoda

✔

@klgandhoda

WATCH: "The processing is going to take a lot of time…" @hodakotb and @KathieLGifford on Matt Lauer's termination from NBC News.

9:26 AM - Nov 29, 2017
She said her thoughts were with the woman who accused Lauer as well as with Lauer and his family.
"May God bless that family and heal," Gifford said. "I'm sorry Hoda, but in my long life, the only thing I've ever been sure of is that only God can heal. There's no bad time to reach out for his help."
She said she was praying over the tough incident and added she "didn't mean to go to church but sometimes you've got to go to church."
Gifford said the day was reminding her of how she handled now-deceased husband's infidelity. She said she was able to forgive Frank Gifford at the advice of "a wonderful, wonderful man."
"He said 'Kathie, if you can't forgive your husband, forgive your children's father. Same person.' We are all so broken, and we need somebody to put us back together, and it's possible."
SandhillShrink

@sandhillshrink

@klgandhoda Kathie Lee has just given men a free pass to hurt women. This religious angle on the air she uses is inappropriate for victims.

9:08 AM - Nov 29, 2017
Commander Breetai

@zenbreetai

Kathie Lee Gifford "Going to Church" right now on the Matt Lauer situation is exact reason why workplace harassment lives and thrives, by reinforcing patriarchal religions that put men on a pedestal and make women secondary in all areas of life.

9:09 AM - Nov 29, 2017
Pam

@PamRey

@KathieLGifford @klgandhoda @TODAYshow Kathie Lee you said it perfectly this morning. God's mercy and forgiveness- that along with His Love is all we need. Love you and Hoda!

9:09 AM - Nov 29, 2017
L A M

@LianneAltizer

@klgandhoda Thank you Kathie Lee for your kindness. Your perspective is inspiring.

9:11 AM - Nov 29, 2017

· Massillon, OH
Some viewers were comforted by Gifford's message of faith amid the news but others felt she was "giving Lauer a free pass" with her message of forgiveness.
Earlier Wednesday, Kotb and Guthrie revealed Lauer had been let go by NBC News Chairman Andy Lack who had received a "detailed complaint" on Monday night about Lauer.
Lack told employees in a statement "we were also presented with reason to believe this may not have been an isolated incident."

John Elliott
Want to know more about John Elliott? Get their official bio, social pages & articles on WACO-FM!
Read more