Robert Wagner is a 'person of interest' in Natalie Wood's 1981 death, inves
Actor Robert Wagner, the then-husband to Hollywood star Natalie Wood, has been named a "person of interest" in the suspicious drowning death of his wife that occurred nearly four decades ago, investigators said.
Los Angeles County Sheriff's told "48 Hours" that investigators would like to speak to Wagner about Wood's mysterious death on Nov. 29, 1981. The "48 Hours" interview with L.A. investigators is slated to air Saturday in a special titled "Natalie Wood: Death in Dark Water."
"As we've investigated the case over the last six years, I think he's (Wagner) more of a person of interest now," John Corina, of the Los Angeles County Sheriff's Department, told "48 Hours." "I mean, we know now that he was the last person to be with Natalie before she disappeared."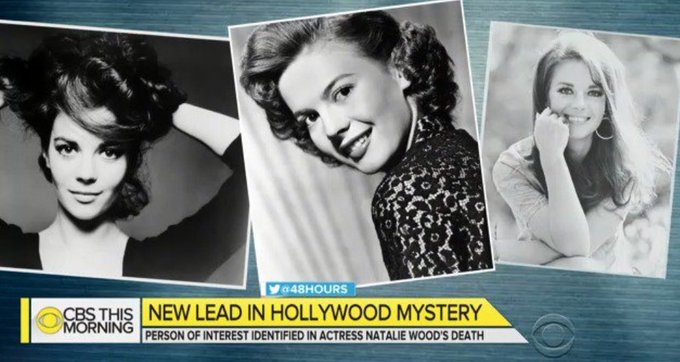 48 Hours

✔

@48hours

BREAKING: Investigator tells #48hours Robert Wagner is now a "person of interest" in Natalie Wood drowning death http://cbsn.ws/2BMehra

6:49 AM - Feb 1, 2018
A rep for Wagner declined to comment Thursday.
Wood, known for her high-profile roles in "West Side Story," "Miracle on 34th Street" and "Rebel Without a Cause," was found dead in the water in 1981 at age 43. The Academy Award-winning actress was traveling on her family's yacht, Splendour, with Wagner, the ship's captain Dennis Davern and her friend, actor Christopher Walken, off the coast of Catalina Island at the time of her death.
KATHY GRIFFIN TALKS LIFE AFTER TRUMP PHOTO SCANDAL: 'I DIDN'T COMMIT A CRIME'
Natalie Woods was best known for playing Maria in "West Side Story."
Investigators closed the case two weeks following her death, ruling it an accident. However, the sheriff's office re-opened the case in 2011 and changed Wood's cause of death on her certificate from "accidental drowning" to "drowning and other undetermined factors."
Investigators, who have been working on the case for six years, told "48 Hours" they are ready to speak with Wagner, who has refused to talk to officials about Wood's death since the case was re-opened.
At the time of her death, Wagner, Walken and Davern told investigators Wood "took off in a dinghy and went ashore." However, Wood said in previous statements that she was terrified of the water.
Following their original statements, Wagner and Davern have changed the chain of events that occurred that night.
Rumors and conspiracy theories related to Wood's death have circulated for years and "foul play" has been suspected.
Robert Wagner and Natalie Wood (AP)
"I haven't seen him (Wagner) tell the details that match all the other witnesses in this case," Corina said. "I think he's constantly changed his story a little bit. And his version of events just don't add up."
Walken spoke with investigators recently regarding her death.
The autopsy report specified Woods had fresh bruises on her body.
"She looked like a victim of an assault," Ralph Hernandez, of the Los Angeles County Sheriff's Department, told "48 Hours."
DEF LEPPARD FRONTMAN JOE ELLIOT ON WHY 'POUR SOME SUGAR ON ME' IS A STRIP CLUB STAPLE
When asked if he believed Wood was murdered, Corina said he believed it was suspicious.
"I think it's suspicious enough to make us think that something happened," Corina said.
When asked if he believed Wagner knew more than what he let on about his late wife's death, Corina said yes.
"Well, I think he does because he's the last one to see her," Corina said.
(AP)
Hernandez reiterated that Wood's death was not proven to be a suicide or an accident, and investigators are trying to decipher how she "ended up in the water."
Wood and Wagner married in December 1957. The two began dating when she was 18 and he was 26. They divorced in April 1962 and re-married in 1972.
Wagner, 87, wrote a memoir in 2008 titled "Pieces of My Heart" and recalled a time when he argued with Walken over his wife's career, People reported. He claimed in the book he did not know what happened to Wood on the night of her death.
"Nobody knows. There are only two possibilities: either she was trying to get away from the argument, or she was trying to tie the dinghy. But the bottom line is that nobody knows exactly what happened," Wagner wrote.
He expressed regret for Wood's death, writing he would have done something.
"Did I blame myself?" he wrote. "If I had been there, I could have done something. But I wasn't there. I didn't see her. The door was closed; I thought she was belowdecks. I didn't hear anything. But ultimately, a man is responsible for his loved one, and she was my loved one."
Sponsored Stories You May Like

John Elliott
Want to know more about John Elliott? Get their official bio, social pages & articles on WACO-FM!
Read more