DWAYNE JOHNSON NO ONE'S BUYING 'SKYSCRAPER' STUNT ... Simple Math Says He F
Dwayne Johnson just doesn't have the numbers to pull off the big stunt in his upcoming blockbuster -- and it all adds up to him falling to his death ... according to the Internet.
Chill, he didn't really fall. It just looks like it on the poster, and in the trailer, for "Skyscraper" ... which Dwayne debuted during the Super Bowl. The movie's marquee stunt shows him running and jumping from a crane to the burning tower -- but doesn't take Einstein to figure out DJ ain't gonna make it.
Hollywood frequently requires suspending reality, but this one looks so bad it's trending, and not only with math geeks.
James Smythe

✔

@jpsmythe

I've mocked up some parabolas for The Rock's SKYSCRAPER jump. Red is assuming he jumped up a bit first; green assuming he ran forward and somehow didn't lose momentum; yellow for a sort of squat-thrust thing. Whichever you choose, rest in peace The Rock, as you are dead now.

4:59 PM - Feb 2, 2018
But math geeks ARE having a ball. Dude's gonna need a bigger crane, or it's ... y'know. #RIPRock
Jamie Rorison

@JamieRorison

Replying to @jpsmythe @phlaimeaux

I've thought long and hard about this, applying everything I know about science to bring you the definitive answer: if he just catches the leg of the K, he can use his momentum and the velocity in which he is travelling to allyoop into the window. He might have to grab the ledge

5:40 PM - Feb 2, 2018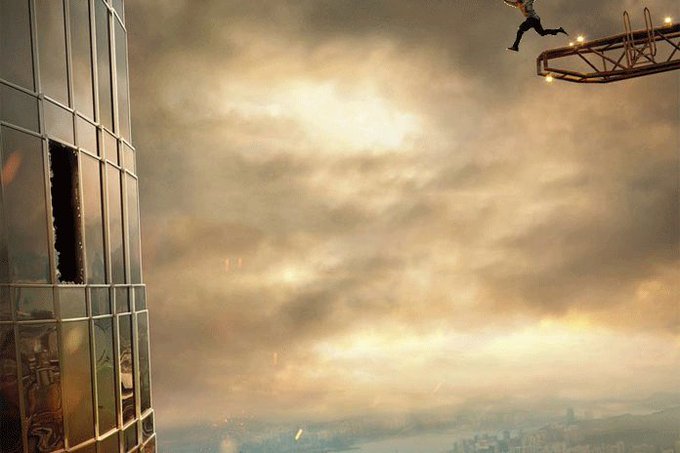 Jaws That Bite

@JawsThatBite

Replying to @jpsmythe10:18 AM - Feb 5, 2018

John Elliott
Want to know more about John Elliott? Get their official bio, social pages & articles on WACO-FM!
Read more