Police swarm scene of third explosion as Texas capital rocked by deadly por
A teenager was killed and at least two women were seriously hurt after a pair of explosions rocked homes in Austin on Monday -- just two weeks after a separate blast which authorities said is linked to at least one of Monday's incidents.
Austin Police said they received a call about the first explosion in a neighborhood on the northeast side of the city around 6:45 a.m., after the 17-year-old resident found a package on the front step, brought it inside, and opened it in the kitchen where it exploded.
"It is very similar to the incident that occurred in Austin on March 2," Austin Police Chief Brian Manley told reporters.
Manley said authorities don't believe the packages came from a delivery through the U.S. Postal Service or private mail carriers, and the placement on the home's front doorstep also indicated a similarity to the blast earlier this month. Federal law enforcement offcials told Fox News the packages are made to look like mail, but at least the first one did not actually get shipped from the postal service.
FBI agents can be seen in an Austin neighborhood after an explosion at a home left a teenager dead and a woman injured. (FOX 7)
"There are similarities that we cannot rule out that these two items are, in fact, related," Manley said.
The Austin-Travis County EMS tweeted that a teenage male was killed and a woman in her 40s was taken to the hospital. Manley said she had non-life threatening injuries.
ATCEMS

✔

@ATCEMS

Multiple #ATCEMS @Austin_Police @AustinFireInfo onscene of a reported explosion at 4800 block of Oldfort Hill Dr (06:44); 2 pts identified thus far with Medics obtaining DOS pronouncement of late teens Male & ~40's F txpt'd to DSMC w/serious potentially life threat inj's. MTF...

7:22 AM - Mar 12, 2018
FBI agents could be seen going around the neighborhood, and the Bureau of Alcohol, Tobacco, Firearms and Explosives said it responded to the scene.
But just minutes after Manley's news conference finished, a separate explosion was reported around 11:49 a.m. in the Montopolis neighborhood, located southeast of downtown Austin. That blast left a woman in her 70's with "life-threatening" injuries, officials said. The Austin-Travis County EMS said on Twitter a second woman in her 80's was being treated for an "unrelated medical issue."
ATCEMS

✔

@ATCEMS

UPDATE2 reported explosion 6700blk Galindo St (1149): CORRECTION 1st patient is ~70s female and was transported to Dell Seton Medical Seton with serious potentially life threatening injuries, 2nd patient is ~80s female with unrelated medical issue. More to follow.

12:16 PM - Mar 12, 2018
Austin Police Dept

✔

@Austin_Police

APD responding to a reported explosion in the 6700 block of Galindo Street. The incident number is 180710681. The call came in as a nature unknown urgent at 11:50 this morning. PIO is en route and will tweet briefing time and location once determined. NOI

12:09 PM - Mar 12, 2018
Authorities have not yet said if this incident is related to the prior two package bombings but fire officaials said on Twitter the third explosion also involved a package. All three locations are withinin 16 miles of each other.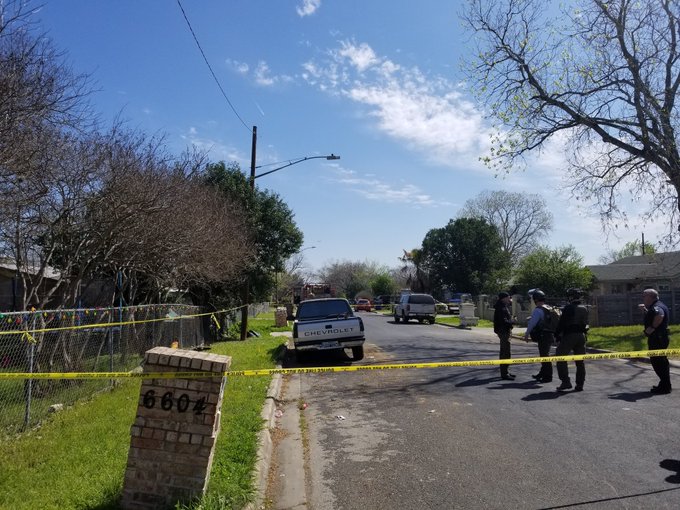 Austin Fire Info

@AustinFireInfo

AFD units onscene in support of @Austin_Police and @ATCEMS at another package explosion incident 6700 blk Galindo

12:28 PM - Mar 12, 2018
Damage inside the home from the early morning blast is "significant," according to Manley, who added investigators are going to nearby homes to see if any outdoor surveillance footage exists.
Neighbor Cynthia Burdett, who has lived in the neighborhood since 1999 and close to the home where the blast took place, told FOX 7 she was in "total shock" and the whole incident was "very scary."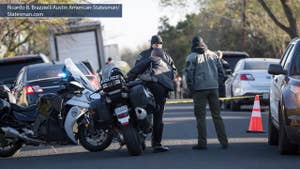 Video
"I checked my house first of all to make sure nothing was on fire, I did look outside at that point and next thing I knew police were knocking at the door saying that there was a suspicious package, one had exploded and that I needed to leave the house," she told reporters.
She said her neighbors are very good neighbors, "church-going" people who are "a very good family."
Manley said the blast bore a resemblance to the March 2 explosion that killed one man.
A teenager was killed and a woman was injured after a package exploded at an Austin home on March 12, 2017. (FOX7)
In that incident, 39-year-old Anthony Stephan House was killed after a "device" exploded on the front porch of his home in the city's northeast Harris Ridge neighborhood about 12 miles north of Monday's blast. Both explosions occurred in the early-morning hours.
TEXAS MAN KILLED BY 'DEVICE' AT HOME IDENTIFIED
House's death was initially called a homicide, but police last week said it was considered a suspicious death because officials hadn't ruled out the possibility the victim may have constructed and accidentally detonated the device himself. Manley said that case has now been reclassified as a homicide as of Monday.
There is no known motive at this time, but Manley said both blasts took place at homes of African-American residents so authorities "cannot rule out that hate crime is at the core of this."
Anthony Stephan House died March 2 after a device exploded on the front porch of his Austin home. (APD)
Austin police said they've determined the device was inside a package, and are working with the Bureau of Alcohol, Tobacco, Firearms and Explosives to reconstruct the item and learn who may have created it.
Manley said they've determined what the device was, but they aren't releasing details "to protect the integrity of the investigation."
Chief Brian Manley

@chief_manley

If you receive a package that you are not expecting or looks suspicious, DO NOT open it, call 911 immediately. RT- Help us spread this message. https://twitter.com/chief_manley/status/973248976534335488 …

12:31 PM - Mar 12, 2018
Police are also asking residents in the Austin area if they do find a package on their doorstep that they were not expecting, to not open it and call 911 to have authorities examine it.
"We will not tolerate this in Austin," Manley said.
Manley said that a second package was discovered near the site of Monday's blast and that some residents and media members were evacuated, or pushed farther from the blast site, as authorities determined whether or not it was another explosive.
Police didn't immediately identify the teenager killed Monday. Manley said the second victim remained hospitalized.
The blasts are taking place as thousands of visitors are descending on the city for the South by Southwest music, film and technology festival.
Fox News' Jake Gibson contributed to this report.
Travis Fedschun is a reporter for FoxNews.com. Follow him on Twitter @travfed

John Elliott
Want to know more about John Elliott? Get their official bio, social pages & articles on WACO-FM!
Read more