Film icon says he fell for 7-year-old star, gushes over Hoda's lips in odd
Legendary actor Burt Reynolds told "Today" show host Hoda Kotb in a bizarre interview Thursday that he was "proud" of her for not having her lips plumped.
Reynolds, 82, was on the "Today" show promoting his latest movie "The Last Movie Star" and he opted to wrap up the chat by focusing on Kotb's looks.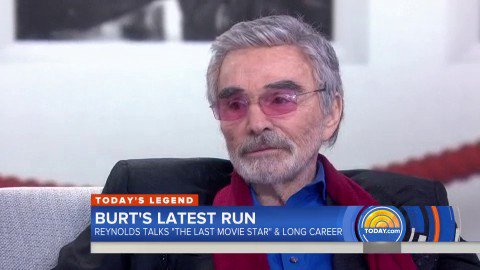 TODAY

✔

@TODAYshow

Watch @hodakotb's full interview with Burt Reynolds

7:48 AM - Mar 15, 2018
Reynolds told Kotb, "I am so proud of you for not having your lips larger."
Kotb replied by laughing and saying "OK, all right Burt."
Earlier on in the chat, he made eyebrow-raising comments about Sally Fields.
Kotb asked Reynolds who the love of his life was.
"You're naughty, you really are. I'm dead in the water no matter what I say. Well, she was 7 when I fell in love with her. She stayed 7 for about 11 years. I would say Sally," the "Boogie Nights" actor replied.
Burt Reynolds opened up about his strained relationship with his father. (Reuters)
"Sally Field?" Kotb asked.
'No, Sally Wolfergosh. Yes, Sally Field," Reynolds replied as Kotb laughed.
Reynolds explained he wanted Field to star with him in "Smokey and the Bandit" but was told the actress was not "sexy."
"I said you don't get it, talent is sexy," Reynolds said.
Burt Reynolds called Sally Field the love of his life. (Reuters)
Kotb asked Reynolds who he would want to play him in a movie about his life.
Reynolds wasted no time and answered, "George Clooney."
"He's not quite as good looking as me but he's got all of the other things," he said.
The "Smokey and the Bandit" star also spoke about his relationship with his father, a WWII veteran and a police chief.
"When you said to him after football wasn't going to work out, 'Hey dad I'm going to be an actor, what was his reaction?" Kotb asked.
"He threw up," Reynolds replied.
"For real?" Kotb asked.
'WILLY WONKA' CHILD STAR APPEARS ON 'JEOPARDY!' AND DELIGHTS SOCIAL MEDIA FANS
"No, but he wasn't happy, you know. He wanted me to be -- you know something to talk to the guys on the force about. Not that he's working with Candy Bergen [Candice Bergen] with for me doesn't get any better," Reynolds replied.
Kotb pressed further about Reynolds' relationship with his father and if he ever said he was proud of him
"He did to other people but not to me," Reynolds said. "I would ask him what did you think of the last picture dad and he said 'What picture?'"
Reynolds recalled an incident when he was arrested by his father for fighting. He said his father threw the suspects into the "drunk tank" but let them go once their fathers picked them up, except for Reynolds.
"He looks at me and says your father didn't show up. It was tough, slow but I loved him," Reynolds said.

John Elliott
Want to know more about John Elliott? Get their official bio, social pages & articles on WACO-FM!
Read more