Lambert shares 'broken heart' at first awards show with ex Shelton, Stefani
ell that was awkward.
Exes Miranda Lambert and Blake Shelton, along with Shelton's new gal Gwen Stefani, were all in attendance at Sunday night's ACM Awards.
While Lambert celebrated making history as the most decorated act in ACM history with 32 wins, her ex spent the night canoodling with his new love Stefani.
Fans were reveling in anticipation for the trio to cross paths, but they seemed to make it through the show without seeing each other.
"I want the camera on Blake and Gwen when Miranda is singing or winning an award. I am an awful person," one user said on Twitter.
Natalie Newman

@nataliennewman

Blake + Gwen + Miranda all in the same room got me like #ACMawards

7:34 PM - Apr 15, 2018
Much to the fan's disappointment, Lambert, 34, and her ex never met, but there were many awkward moments between the trio during the show.
One tense moment came as Lambert thanked the crowd -- which included her ex-husband and Stefani -- as her winning song "Tin Man" was inspired by her divorce from Shelton, 41.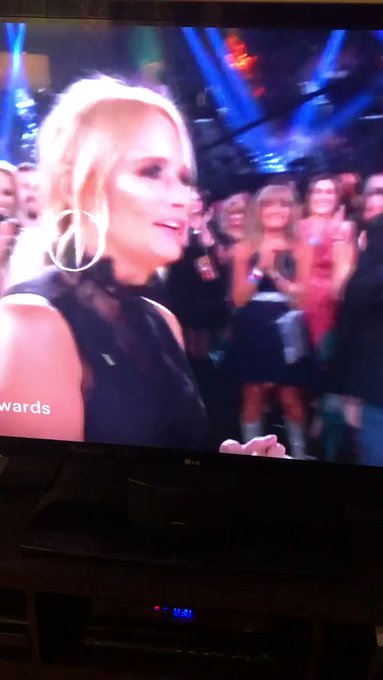 Ryan Brown

@__RyanBrown__

Miranda Lambert wins the first award... Looks over twice where Blake and Gwen were sitting and they are conveniently not in the audience. Hmmm #ACMawards #ACM

7:45 PM - Apr 15, 2018
Nicole Valenzuela

@ColeeCole27

Miranda lambert winning song of the year for a song about her break up with Blake in front of Blake and Gwen is my favorite moment ever. That is every girls dream come back. Like thanks for the heart break I turned it into $$ and prestige

10:35 PM - Apr 15, 2018
"Thank you guys so much for sharing my broken heart with me," the 34-year-old said as she accepted the Song of the Year award for her tune.
Us Weekly reported that Shelton and Stefani, 48, were backstage when Lambert spoke about "Tin Man." They also appeared to be missing when Lambert accepted her award for Female Vocalist of the Year.
But Stefani was front and center when her boyfriend took the stage to perform "I Lived It." Fans noticed how she sang along to every word while Shelton crooned onstage. Lambert, however, was nowhere in sight.
Felicia

G&B

@felicia23456

Gwen is literally the heart eye emoji looking at Blake!

8:04 PM - Apr 15, 2018
Gwen Stefani sings along to Blake Shelton's performance during sweet ACMs date night
The timing was poor for Lambert who recently split from her boyfriend of two years, Anderson East. The country superstar walked the red carpet sans East while Shelton and Stefani opted to skip it all together.
You can find Sasha Savitsky on Twitter @SashaFB.

John Elliott
Want to know more about John Elliott? Get their official bio, social pages & articles on WACO-FM!
Read more