Hawaii volcano shows 'no sign of slowing down,' destroys dozens of homes
By Edmund DeMarche,Travis Fedschun| Fox News
Molten lava from Hawaii's Kilauea volcano continued gushing into the lush paradise on the Big Island Monday, even as an eleventh fissure opened up, destroying more than two dozen homes and spewing lava hundreds of feet in the air.
The 26 decimated homes were located in the Leilani Estates subdivision, where molten rock, toxic gas and steam have been bursting through openings in the ground created by the volcano, officials said. No fatalities or major injuries have been reported since the eruptions began Thursday.
Hawaii County Civil Defense Administrator Talmadge Magno told reporters on Sunday that some of the fissures "have established pretty good flows and just continue to cover more of the subdivision," adding a sizeable lava flow was heading north of a new vent.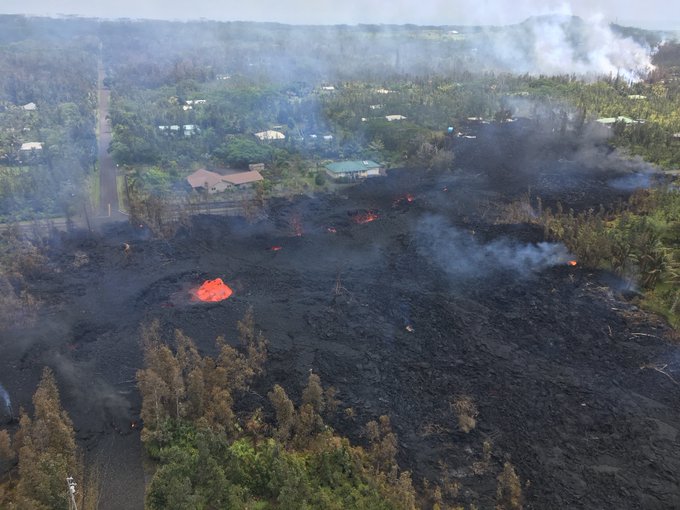 USGS Volcanoes✔

@USGSVolcanoes

In the Leilani Estates Subdivision, fissure 7 was active for several hours on May 5 with large bubble bursts and spatter. A short lava flow moved northeast and crossed Hookupu St. https://on.doi.gov/2tuBAlE

10:16 PM - May 6, 2018
"There's no sign of slowing down," he said. "We had some pauses yesterday, but it seems like there's a lot of magma under the ground."
Magno added that "it seems like the flows are extending further from the fissures, so the eruption is progressing."
Slideshow
Some of the more than 1,700 residents who have been evacuated in the Leilani Estates subdivision were allowed to briefly return to gather medicine, pets, and other necessities. Home prices in the area range from about $250,000 up to nearly $600,000, according to real estate listings.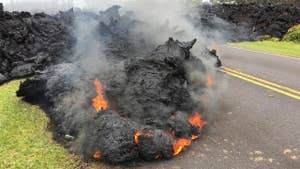 Video
The neighborhood is known for having more affordable real-estate prices on the Big Island that draw in many newcomers who can't afford to live elsewhere, according to Reuters. Leilani Estates is located in the "Zone 1" (out of nine) hazard rating for lava-flows, as calculated by the U.S. Geological Survey, due to "vents that have been repeatedly active in historical time."
VOLCANIC ERUPTIONS LIKE THE ONE IN HAWAII, ARE NOT NATURAL DISASTERS -- WITHOUT THEM THE EARTH WOULD EXPLODE
"People move here thinking it's paradise, and what they learn is that it's something different," realtor Jessica Gauthier told the news agency.
Amber Makuakane Kane, 37, a teacher and single mother of two, told the Associated Press that her three-bedroom house in Leilani Estates was destroyed by lava.
In this Saturday, May 5, 2018 photo, a new fissure erupts in Leilani Estates in Pahoa, Hawaii. (U.S. Geological Survey via AP)
The dwelling was across from a fissure that opened Friday, when "there was some steam rising from all parts of the yard, but everything looked fine," Makuakane said.
Lava has spread around 387,500 square feet surrounding the most active fissure, though the rate of movement is slow. There was no indication when the lave might stop or how far it might spread.
"There's more magma in the system to be erupted. As long as that supply is there, the eruption will continue," U.S. Geological Survey volcanologist Wendy Stovall said.
About 250 people and 90 pets spent Saturday night at shelters, the American Red Cross said.
Lava advances along a street near a fissure in Leilani Estates, on Kilauea Volcano's lower East Rift Zone, Hawaii, the U.S., May 5, 2018. (U.S. Geological Survey)
HAWAII'S VOLCANIC ERUPTION HAS DESTROYED AT LEAST 26 HOMES, OFFICIALS SAY
The lava could eventually be channeled to one powerful vent while others go dormant, as has happened in some previous Hawaii eruptions, Stovall said.
Kilauea, one of the world's most active volcanoes, has been erupting continuously since 1983.
Fox News' Mike Arroyo and The Associated Press contributed to this report
Edmund DeMarche is a news editor for FoxNews.com. Follow him on Twitter @EDeMarche.

John Elliott
Want to know more about John Elliott? Get their official bio, social pages & articles on WACO-FM!
Read more