Customer revolted at gross instructions on burger receipt: 'Please spit in
One New York man left his Father's Day dinner feeling queasy after discovering instructions on the receipt for his burger that said "please spit in it too."
On June 17, Curtis Mays had just finished his meal at Bohemian Hall and Beer Garden in Astoria, Queens when he noticed the foul note on the bill. Though the Sea Cliff man received his well-done burger with cheddar cheese, mayo, toasted bread, caramelized onions and an order of onion rings, he certainly didn't request a side of saliva.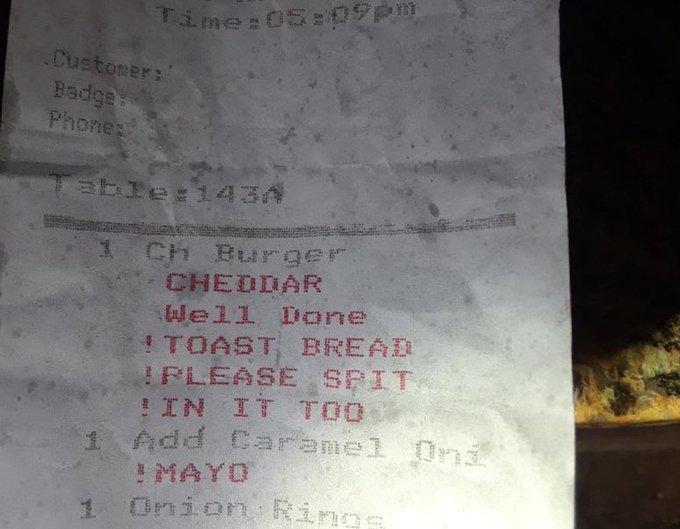 CeFaan Kim

✔

@CeFaanKim

EXCLUSIVE: On a scorching hot summer night, what's better than a cold brew? Pair it with a juicy burger. Cheddar cheese, well done, toast bread, please spit in it too! Don't forget the mayo! Wait... spit?! At 11pm we'll tell you which beer garden and what the manager told us.

8:40 PM - Jun 17, 2018
"I ate my burger already, I felt like I was gonna throw up," Mays recalled to ABC 11 of the shocking end to an otherwise lovely evening with his daughter and granddaughter.
"I asked her [the server] 'Why would you do this?' And she couldn't explain it. She said she didn't do it, so I was like 'Who prints out the receipt?' So she said, 'I take it up there and print it myself.' 'So you did it? Why are you lying about it?' She just walked off," he added.
BARTENDER ARRESTED FOR STEALING $10,000 IN TIPS
Mays then immediately approached the manager.
"He was saying, 'How can we compensate you?' I was like, 'How can you compensate somebody for spitting on your food? I ate this already,'" the patron said. Mays added that the waitress was fired on the spot and he received a refund.
The unnamed manager further divulged to ABC that though the food service industry is a "stressful job," the incident was "unacceptable." Claiming that it was "very unlikely" one of the chefs actually spit in the burger, he agreed that he understood Mays' frustration.
RESTAURANT OWNER RESPONDS TO CUSTOMER'S CLAIM THAT THERE WERE MAGGOTS IN FOOD
According to the outlet, the Bohemian Hall and Beer Garden has an "A" rating from the New York Department of Health.
The server at the Queens beer garden was reportedly fired on the spot. (Google Street View)
In the hours since, the news has sparked debate among commentators on Facebook.
"Waitress and THE COOK that saw it but said NOTHING need to be held accountable. Even if she meant SPLIT, she SUPPOSEDLY had no explanation when asked about it," one said.
FOLLOW US ON FACEBOOK FOR MORE FOX LIFESTYLE NEWS
"Maybe she meant to spell, SPLIT," a critic chimed in.
"Sorry but 'split' was not the word she was using. That sentence would not make sense. Also...there is NO auto correct on a POS system. Now, if it was a handheld she was using instead of a set station I suppose that's possible. No system I have used has that feature," one detractor disagreed.
"Cook at home," another simply mused.
Janine Puhak is an editor for Fox News Lifestyle. Follow her on Twitter at @JaninePuhak

John Elliott
Want to know more about John Elliott? Get their official bio, social pages & articles on WACO-FM!
Read more