CAPITAL GAZETTE SHOOTING GUNMAN OPENS FIRE IN OFFICE ... Multiple Fatalitie
935

293
6/28/2018 1:14 PM PDT

Mass Shooting at Capital Gazette Newspaper's Office, Multiple Fatalities

BREAKING NEWS
1:48 PM PT -- MD officials just announced that there have been 5 fatalities, with several others "gravely" injured.
They also stated that within 60-90 seconds of the gunman opening fire, authorities were on the scene. At this time, they believe the suspect in custody acted alone, and the building is now secure.
Gunfire erupted in a Maryland newspaper's office Thursday, and the gunman reportedly took down multiple employees before cops captured him.
The mass shooting happened in the Capital Gazette's newsroom in Annapolis. The suspect reportedly shot through a glass door at the beginning of the attack ... and continued firing around the office.
Cops raced to the scene, and Anne Arundel County Sheriff says one of his deputies successfully captured the suspect alive. He's reportedly a white man in his 20s. Authorities say he used a shotgun.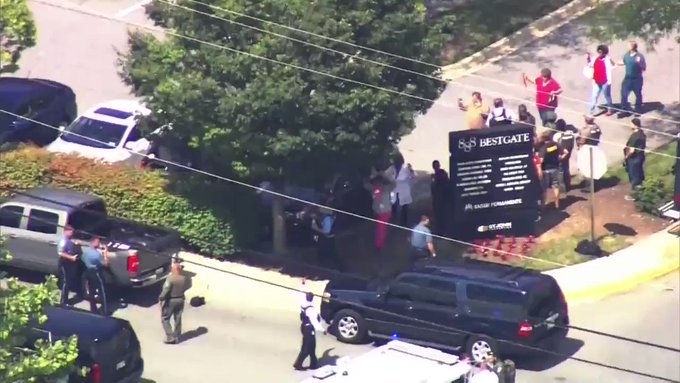 NBC DFW

✔

@NBCDFW

#BREAKING: People leaving Capital Gazette newspaper in #Annapolis with hands up after reports of active shooter. http://on.nbcdfw.com/woBIhc0

2:39 PM - Jun 28, 2018
In a scene we've seen far too often, employees were seen exiting the building with their hands in the air ... as cops tried to get people out of harm's way.
Some early reports say as many as 4 people were killed and 5 injured in the attack.
A confirmed reporter inside the building at the time of the shooting tweeted from the scene.
Phil Davis

@PhilDavis_CG

There is nothing more terrifying than hearing multiple people get shot while you're under your desk and then hear the gunman reload

2:46 PM - Jun 28, 2018 ·

Maryland, USA
Story developing ...

John Elliott
Want to know more about John Elliott? Get their official bio, social pages & articles on WACO-FM!
Read more