Blake Shelton: From small-town Oklahoma boy to country superstar
Blake Shelton was not always the suave country crooner he is today. The Oklahoma native is proof that a small-town kid can make it big in Music City.
Humble beginnings
Shelton is the son of Dorothy Shackleford, a beauty salon owner, and Richard Shelton, a used car salesman. As a young boy in Alda, Shelton developed a love for music and by the time he was 16 he had garnered a number of fans after touring the local bar circuit. Just weeks after graduating high school in 1994, a 17-year-old Shelton moved to Nashville to start a career in country music.
But Shelton's childhood had been marked by tragedy when the singer lost his older brother, Richie, in a car accident in 1990.
"I remember picking up the phone to call him a week after he was dead, to tell him something I just saw on TV ... it was like constantly a shock to me that he was dead," Shelton said on "60 Minutes" in 2014.
He later co-wrote a song about the loss of his brother with his ex-wife Miranda Lambert called "Over You."
A few years after his brother's death, Shelton packed up and moved to Music City.
His big break
Blake Shelton's first single, "Austin," was released in 2001. (AP)
After putting everything on the line to move to Nashville, Shelton released his first single "Austin" in 2001. The song spent five weeks at No. 1 on the Billboard Hot Country Songs chart before he released his self-titled debut album which, included the hit "Ol' Red."
Shelton has gone on to release 10 additional albums and hit songs such as "The More I Drink," "Hillbilly Bone," "Honey Bee" and "God Gave Me You."
Shelton has received a lot of recognition for his contribution to the world of country music as seen with his nine CMA wins, five ACM awards and for his induction into the Grand Ole Opry in 2010. In 2017, he celebrated 10 million albums sold.
While Shelton built his now-booming career, the singer's love life faced its own ups and downs.
Rocky romances
Blake Shelton and Kaynette Gern, left, were married from 2003-2006. Shelton was married to country singer Miranda Lambert, right, from 2011-2015. (Getty/AP)
Shelton married his longtime girlfriend Kaynette Gern in 2003. The couple divorced in 2006 shortly after the crooner met fellow singer Miranda Lambert at the CMT's "100 Greatest Duets Concert," where they were paired up to cover Michael Buble's song "Home."
Shelton and Lambert insist nothing romantic happened between them until after Shelton and Kern parted ways. However, Lambert's ex-boyfriend, musician Jeff Allen, revealed in a tweet from April that his then-girlfriend left him for a married Shelton.
"You know, I've always given you the benefit of the doubt and chalked it up to just being human, but you must be one arrogant SOB to pop off something like this, when I know damn good and well you were cheating on your wife and Miranda was cheating on me when you two started up," Allen tweeted and then deleted.
Addressing claims he cheated on Kern with Lambert, Shelton said in 2014, "That was easily the toughest thing that I've ever been through. I put that, my divorce [from Kern], up there with my brother's death, and that was a tough, tough call to make."
Shelton proposed to Lambert after four years of dating in 2010. They married in May 2011 only to divorce in July 2015.
"This is not the future we envisioned. And it is with heavy hearts that we move forward separately. We are real people, with real lives, with real families, friends and colleagues. Therefore, we kindly ask for privacy and compassion concerning this very personal matter," Shelton and Lambert said in a statement at the time of their split.
Shelton found love again with his "Voice" co-star Gwen Stefani after she and husband Gavin Rossdale split around the same time as his divorce from Lambert.
Blake Shelton and Gwen Stefani met when they were cast as coaches on "The Voice." (NBC)
"When I was going through my divorce, I hit rock bottom, just like anybody does when they go through something that devastating," Shelton told "Today" in June. "It's a miracle that I met somebody that was going through the same exact thing that I was at the exact same moment in time. If Gwen and I were being honest right now, talking about this, I think in the back of our minds we both kind of thought, 'This is a rebound deal,' because we're both coming out of a pretty low spot in our lives."
But three years after getting together, Shelton said he and Gwen are going strong.
"Every day that goes by it just feels like a stronger bond between the two of us and it constantly feels like it's going to the next level."
It wasn't just Shelton's many romances that made headlines -- the singer has faced his fair-share of controversies over the course of his career.
Controversies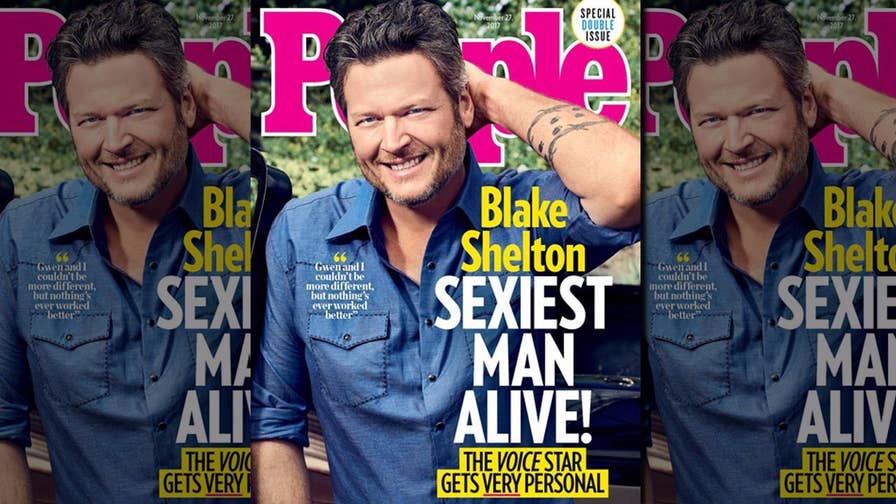 With fame, comes scrutiny -- and Shelton learned that the hard way.
Known for his wild remarks and adult humor, Shelton first came under fire in 2016
The 41-year-old first faced backlash after his followers unearthed a series of old tweets – most of which have since been deleted – that offended a lot of people.
The old tweets bubbled up again when People named Shelton Sexiest Man of the Year in 2017. Many slammed the magazine for picking Shelton saying his past remarks were racist, misogynistic and homophobic.
In a 2011 tweet, he begs the person in the next room to "learn some English so I would at least know what he's planning to bomb!!" In another tweet from 2010, he writes about a "sick fantasy" he had about the then 16-year-old Dakota Fanning.
"So I just figured out a great excuse for my sick fantasy about Dakota Fanning. I thought she was Amanda Seyfried," he wrote.
Shelton apologized for the tweets when they were unearthed in 2016.
"Everyone knows comedy has been a major part of my career and it's always been out there for anyone to see," he said in 2016. "That said anyone that knows me also knows I have no tolerance of hate of any kind or form...I deeply apologize to anybody who may have been offended."
Despite the outrage, Shelton managed to move past his previous offenses and gain recognition all across the globe.
While Shelton was long-recognized as a big player in the country music world, few outside of the genre knew his name. That all changed when the "Sangria" singer was cast as one of the coaches on the singing competition series "The Voice."
Out of "The Voice's" 14 seasons, Shelton's picks have won six times. (NBC)
Reality TV takes over
Shelton's southern charm and good looks quickly made the coach a fan-favorite and soon the 42-year-old became a household name.
Out of "The Voice's" 14 seasons, Shelton's picks have won six times.
In addition to his music career and time on "The Voice," Shelton also recently opened two restaurant/bar venues called Ol Red.
"This is a big deal for me," an emotional Shelton noted to People in June at the time of his Nashville location opening. "It's overwhelming."
He added, "I wouldn't change one thing about my life right now."
You can find Sasha Savitsky on Twitter @SashaFB.

John Elliott
Want to know more about John Elliott? Get their official bio, social pages & articles on WACO-FM!
Read more