Waves top 80 feet as monster storm barrels through Atlantic toward Carolina
By Lucia I. Suarez Sang| Fox News
Hurricane Florence's potentially devastating winds are generating enormous waves as high as 83 feet as it continues to make its way toward the East Coast and insurers predict it will become the costliest such storm to ever hit the continental U.S.
The National Hurricane Center said Wednesday the massive waves were produced by being trapped along with very strong winds moving in the same direction of the storm's motion. The center said the waves were measured by satellite.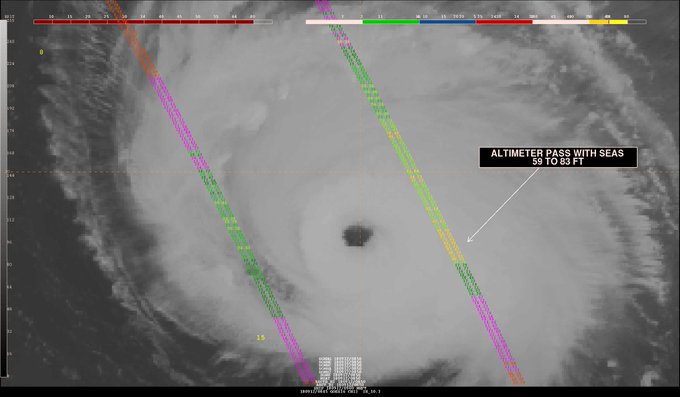 NHC_TAFB

✔

@NHC_TAFB

Wave heights to 83 ft were measured early this morning under the NE quadrant of Hurricane Florence. These enormous waves are produced by being trapped along with very strong winds moving in the same direction the storm's motion. #HurricaneFlorence http://hurricanes.gov/marine

9:23 AM - Sep 12, 2018
HURRICANE FLORENCE'S PATH: TRACK THE STORM HERE
As of 2 p.m. Wednesday, Florence was downgraded to a Category 3 hurricane, but it is expected to go back to a Category 4 by Thursday morning. The storm was about 435 miles southeast of Wilmington, N.C., and moving northwest at about 16 mph.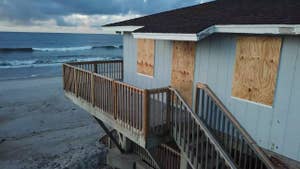 Video
The National Hurricane Center said the hurricane's peak winds have decreased slightly to 125 mph but the size of the wind field has increased to outwards of 70 miles from the center..
Forecasters predict the storm will make landfall late Thursday night or sometime Friday.
According to Fox News Senior Meteorologist Janice Dean, current forecast puts Florence stalling upon reaching the Carolina coast before making a slight shift south and barreling down South Carolina. She said it will become a "major flooding event."
The shift south and west will encompass more of South Carolina and western North Carolina. The National Weather Center said Florence will likely be "the storm of a lifetime" for portions of the Carolina coast.
HURRICANE FLORENCE COULD BRING CATASTROPHIC STORM SURGES: WHAT ARE THEY, AND HOW CAN YOU PREPARE?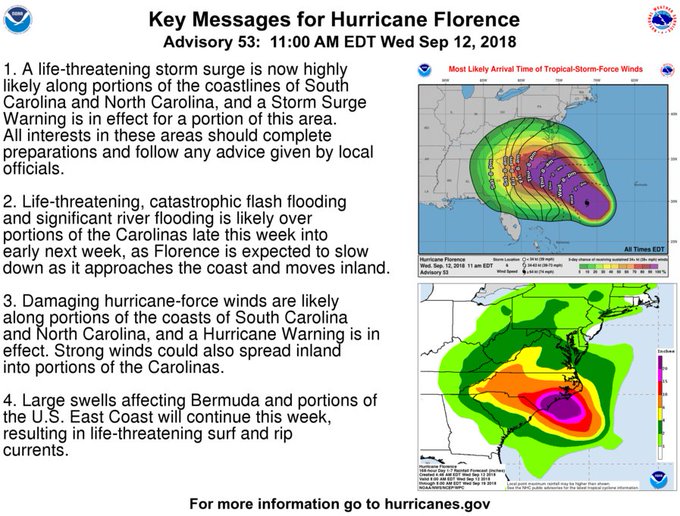 National Hurricane Center

✔

@NHC_Atlantic

9/12 11:00 AM EDT: Here are the Key Messages for #Hurricane #Florence. The full advisory is at: http://hurricanes.gov

10:35 AM - Sep 12, 2018
In addition to the hurricane-strength winds blowing ashore Friday, Florence has the potential to bring a storm surge upwards of 6 feet in parts of the coastline including up to 13 feet from Cape Fear north to Cape Lookout.
The hurricane could also produce heavy and excessive rainfall – up to 40 inches in isolated areas in the Carolinas and anywhere between 6 to 12 inches elsewhere in the Appalachians and Mid-Atlantic region.
It will also pass directly over two nuclear power plants -- the Brunswick Nuclear Plant, which is located 30 miles south of Wilmington, as well as the Shearon Harris Nuclear Plant in New Hill, about 23 miles from Raleigh.
HURRICANE FLORENCE EMERGENCY CONTACTS TO NOTE AS 'EXTREMELY DANGEROUS' STORM HITS EAST COAST
Analytics firm CoreLogic predicts that the damage from Florence could be more than $170 billion – making it the most expensive hurricane to hit the continental U.S.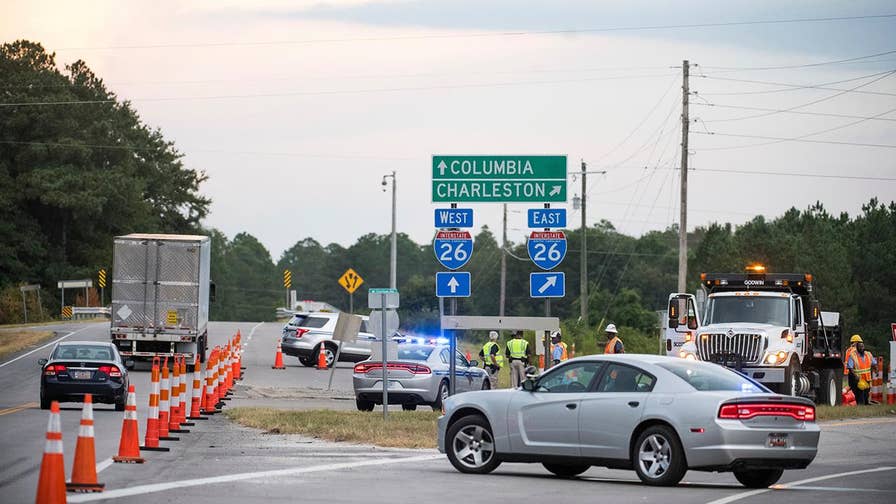 Hurricanes Katrina and Harvey, which decimated parts of the Gulf states and Texas in 2005 and 2017 respectively, cost more than $125 billion. Hurricane Sandy, which hit the Mid-Atlantic and New England areas in 2012, came in at $65 billion, according to the National Hurricane Center.
Authorities, including President Trump and the Federal Emergency Management Agency (FEMA), are urging residents in the Carolinas as well as parts of Virginia and Georgia to evacuate as the storm continues its path.
Jeff Byard, FEMA associate administrator for the Office of Response and Recovery, called Florence "a very dangerous storm."
"This is going to be a Mike Tyson punch to the Carolina coast," he warned.
'EXTREMELY DANGEROUS' HURRICANE FLORENCE TO BE A 'MIKE TYSON PUNCH TO CAROLINA COAST'
Trump declared states of emergency for North and South Carolina and Virginia, opening the way for federal aid. All three states ordered mass evacuations along the coast.
On Wednesday morning, the president urged those in the path of Florence to "get out of its way."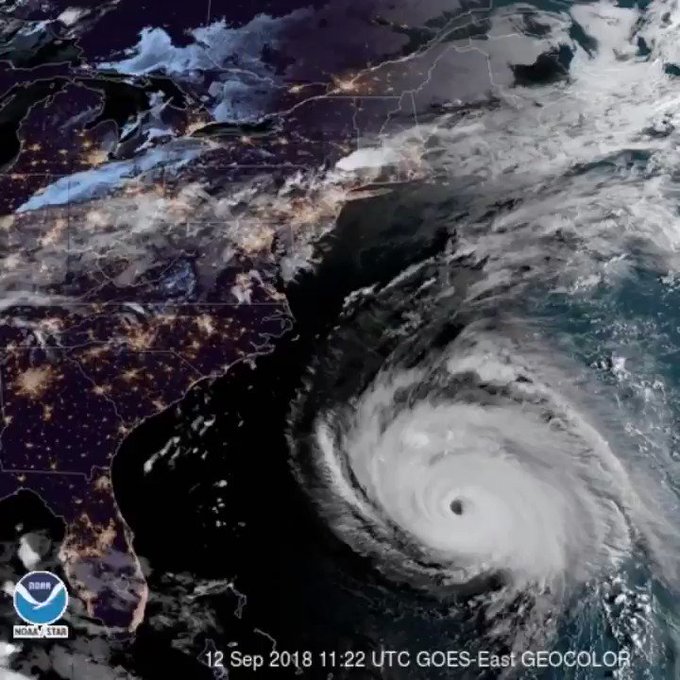 Donald J. Trump

✔

@realDonaldTrump

It is imperative that everyone follow local evacuation orders. This storm is extremely dangerous. Be SAFE! #HurricaneFlorence https://www.ready.gov/hurricanes

11:37 AM - Sep 12, 2018
"Don't play games with it," he added. "It's a big one."
On Wednesday, people across the region rushed to buy bottled water and other supplies, board up their homes, pull their boats out of the water and get out of town.
Forecasters with the National Hurricane Center said that while Florence is expected to slow down considerably by late Thursday and into Friday, it will still be an "extremely dangerous major hurricane" when it makes landfall.
The Associated Press contributed to this report.
Lucia I. Suarez Sang is a Reporter for FoxNews.com. Follow her on Twitter @luciasuarezsang

John Elliott
Want to know more about John Elliott? Get their official bio, social pages & articles on WACO-FM!
Read more