Carrie Underwood's husband Mike Fisher trolls her on Twitter for outfit
By Billy Dukes | Taste of Country
Carrie Underwood's husband calls her out on Twitter for denim outfit. (Getty Images)
Carrie Underwood shared this picture from 2018 American Music Awards rehearsals, and three minutes later, her husband Mike Fisher was trolling her.
There's no doubt Fisher was just being playful — surely he knows better than to cross the woman known for slaying men in song — but the public teasing is worth airing.
First, Underwood's tweet: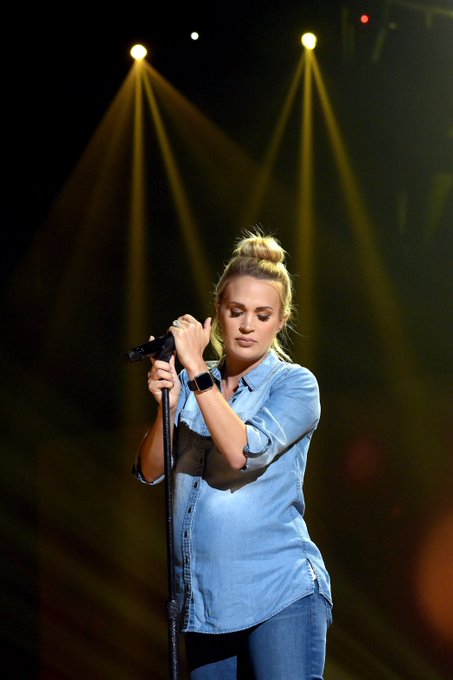 Carrie Underwood

✔

@carrieunderwood

Rehearsing for the @AMAs. Tune in LIVE at 8/7c on Tuesday on @ABCnetwork. #SpinningBottles #AMAs : Kevin Winter/ @GettyImages

9:19 PM - Oct 7, 2018
And Fisher's on-point response:
Mike Fisher✔@mikefisher1212
Love the Canadian tuxedo babe!! https://twitter.com/carrieunderwood/status/1049122052173692929 …
9:22 PM - Oct 7, 2018
The "Canadian tuxedo" is the name for the all-denim look Underwood is seen sporting in this photo from rehearsals. It's not a compliment, although in fairness, denim on denim is an acceptable fashion choice in 2018, especially for a pregnant woman whose wardrobe is no-doubt shrinking as her belly bulges.
Fans of Fisher and Underwood got the joke and celebrated the gentle ribbing, with one even pointing out that the former hockey player was wearing the other version in his Twitter profile. Indeed, he has on a thick, red and black checkered flannel.
Underwood will perform at the 2018 AMAs on Oct. 9 on ABC. The "#SpinningBottles" hashtag indicates she won't be singing her current single, "Love Wins." "Spinning Bottles" is another song from her recently-released Cry Pretty album. The 2018 AMAs begin at 8 p.m. EST. Underwood is the only country performer, but Maren Morris, Thomas Rhett and Kelsea Ballerini are scheduled to attend. It's not clear if Fisher — Underwood's husband of eight years — will be there, as well.
Underwood has several public appearances lined up, including her regular hosting gig at the CMA Awards on Nov. 14. Cry Pretty recently debuted as the No. 1 album on the Billboard Albums chart.

John Elliott
Want to know more about John Elliott? Get their official bio, social pages & articles on WACO-FM!
Read more