Florida's Gulf Coast braces as Hurricane Michael bears down
Hurricane Michael's rapid intensification as it speeds towards Florida's Panhandle has left residents scrambling Tuesday to make final preparations before the storm closes in -- and officials warn the storm could grow even stronger in the hours before landfall.
The National Hurricane Center said as of 11 a.m. ET that Michael is a Category 2 storm with winds of 110 mph and is moving north-northwest at 12 mph towards Florida.
Hurricane Center Director Ken Graham said there were just a few hours left until Michael's wind gusts and rain bands would start whipping the coast.
"Guess what? That's today," Graham said. "If they tell you to leave, you have to leave."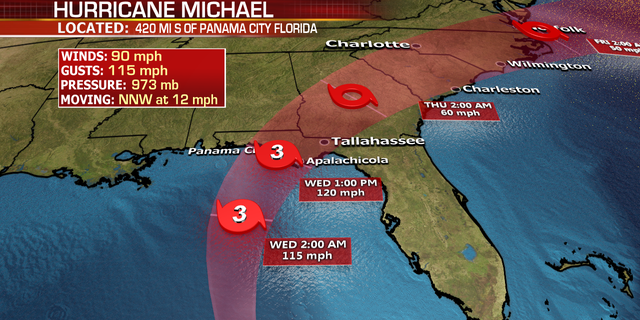 The forecast track of Hurricane Michael. (Fox News)
Mandatory evacuation orders went into effect Tuesday morning for some 120,000 people in Panama City Beach and across other low-lying parts of the coast.
In Mexico Beach, located just outside of Panama City, residents and realtors were busy with final preparations of waterfront homes.
"It's very chaotic," broker and owner of Parker Realty of Mexico Beach told WJHG/WECP. "We have to bring the porch furniture in on all of them and then some of them want the windows boarded up, the sliding glass doors."
Elsewhere in Bay County, residents reported waiting up to 40 mins in long lines for gasoline as they gathered supplies ahead of the storm.
"It's really different to be under that kinda pressure: to try to save your home, to try to save your family, to try to, you know, prepare yourself," Tammy Wilson told WJHG/WECP.
HURRICANE MICHAEL TARGETS NORTH FLORIDA AS 'MONSTROUS' STORM GAINS STRENGTH
Further inland, officials warned residents living in mobile homes that are especially vulnerable to hurricane-force winds. Leon County officials issued a voluntary evacuation notice to mobile home residents, the Tallahassee Democrat reported.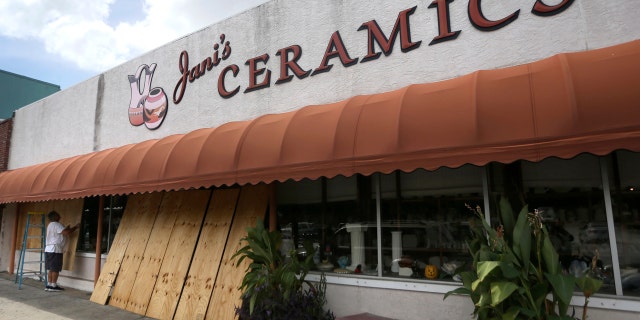 Bobby Smith boards up the windows at Jani's Ceramics in Panama City, Fla., in preparation for the arrival of Hurricane Michael. (Patti Blake/News Herald via AP)
Joanne Palazzi, 77, told the paper it was going to be her first time riding out a storm in her mobile home.
"Mobile homes are very, very scary (during storms)," she told the Tallahassee Democrat. "And especially — look at the trees."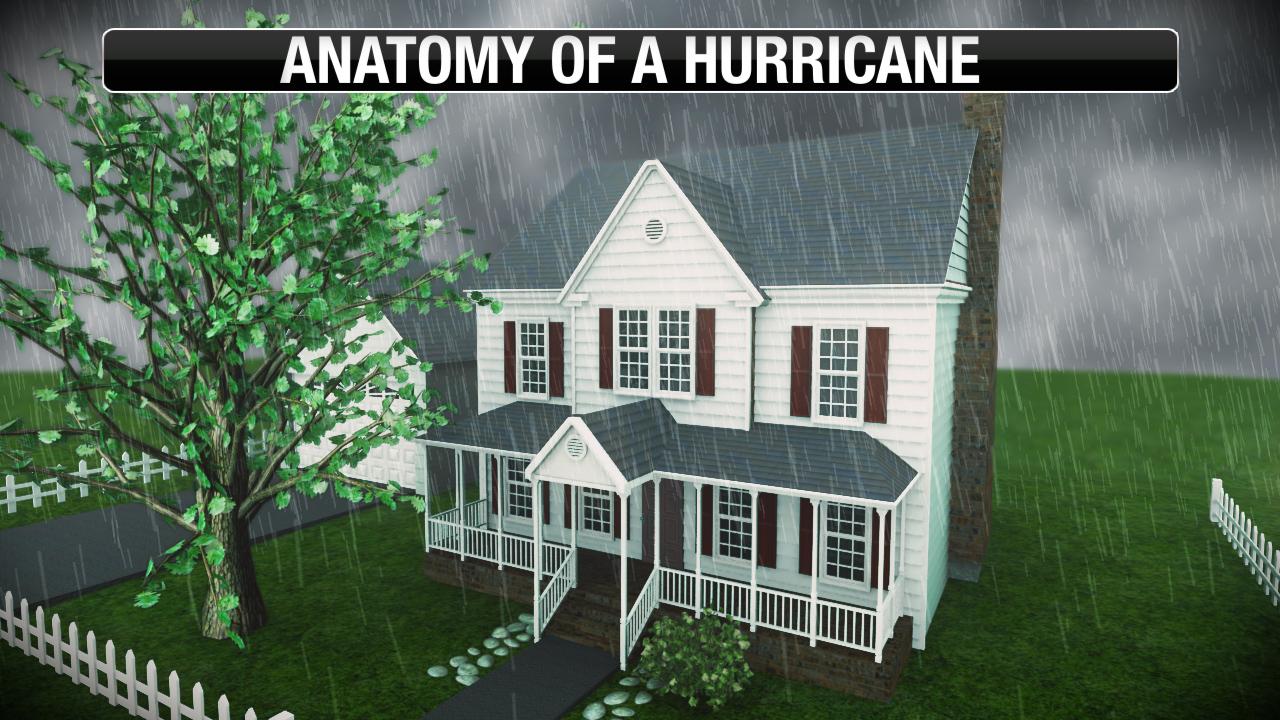 Here's an animated explanation of what hurricane categories mean and the damage that can happen to your home
During a news conference on Tuesday, Florida Gov. Rick Scott warned Michael is a "massive storm" that could bring "total devastation" to parts of the state. The governor activated 2,000 members of the Florida National Guard on Tuesday to deal with the fast-moving storm, adding he is very concerned about a potentially "historic" storm surge when it makes landfall.
HURRICANE MICHAEL'S PATH: TRACK THE STORM HERE
Scott said some places could experience a storm surge of between eight and 12 feet of water as Michael blows ashore.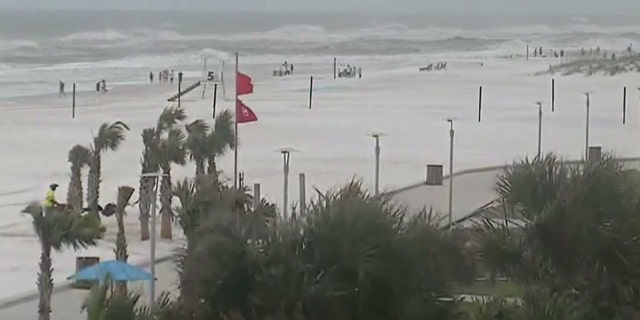 Strong surf is impacting beaches in Gulf Shores, Ala. ahead of Hurricane Michael. (FOX10)
Further west, dangerous surf was reported along the Alabama coast with some flooding on Dauphin Island, FOX10 reported.
Gulf Breeze, Fla.-resident Cathy Gaudette told FOX10 she was getting gas in Alabama along Interstate 10 before heading back to prepare her home for Michael.
"We will probably evacuate to like Alabama or wherever we can go to be safe," she said.
The Associated Press contributed to this report.
Travis Fedschun is a reporter for FoxNews.com. Follow him on Twitter @travfed

John Elliott
Want to know more about John Elliott? Get their official bio, social pages & articles on WACO-FM!
Read more