Hurricane Michael devastation in Panama City, Florida seen in drone photos
The stunning scope of Hurricane Michael's rampage started coming into focus Thursday, as dawn in Panama City, Florida revealed a sprawling mess of almost unimaginable devastation wrought by the third-most powerful hurricane in recorded history to lash the U.S. mainland.
Michael is now a tropical storm and, as of Thursday morning, was pushing its way across South Carolina -- while also lashing North Carolina and Virginia with strong winds and heavy rains amid a tornado threat.
Hurricane Michael made landfall around 1:30 p.m. Wednesday, just north of Mexico Beach, as a Category 4 storm with 155 mph sustained winds -- just 1 mph below the threshold for a Category 5 designation. The storm blasted the Florida Panhandle and southwest Georgia with wicked winds and killed at least two people.
In Panama City, located just west of where the monster storm made landfall, drone video taken by storm chaser Brett Adair shows how the winds and rain ravaged a middle school.
Jinks Middle School took such a hit from the hurricane that Adair was able to fly the drone right through the school's gym, where Michael's fierce gusts peeled back the roof and collapsed walls. Not that everything was ripped apart: Even with debris lining the basketball court, a volleyball net remained taut and in place, awaiting the next match.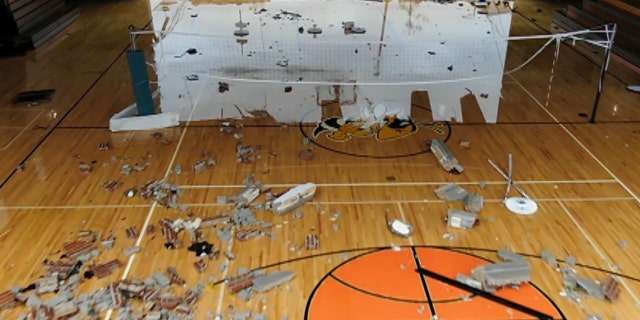 The volleyball net remains standing at Jinks Middle School in Panama City after Hurricane Michael tore through. (Brett Adair)
AS HURRICANE MICHAEL HITS, FLORIDA MAN WRITES NAME ON ARM IN CASE HE DOESN'T SURVIVE STORM
Elsewhere in Panama City, downed power lines, uprooted trees and buildings with tops peeled open like soup cans littered the landscape. As of Thursday morning, more than 359,300 customers were without power in Florida.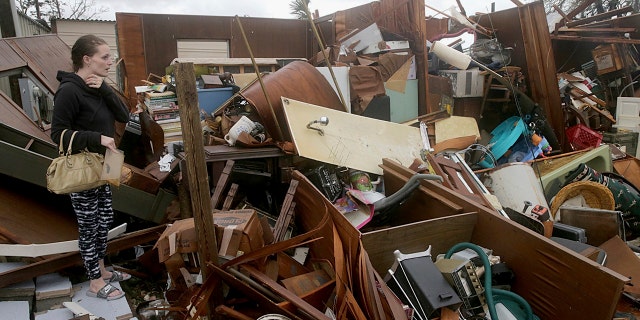 Haley Nelson inspects damages to her family properties in the Panama City, Fla., spring field area after Hurricane Michael made landfall. (Pedro Portal/Miami Herald via AP)
Emergency management officials are urging residents to stay off the streets until utility crews and other service providers finish clearing away hazardous obstacles.
Vance Beu, who was staying at an apartment complex with his mother, told the Associated Press the storm had "super high-pitched" roar and sounded like "a jet engine was coming."
"It was terrifying, honestly. There was a lot of noise. We thought the windows were going to break at any time," Beu said.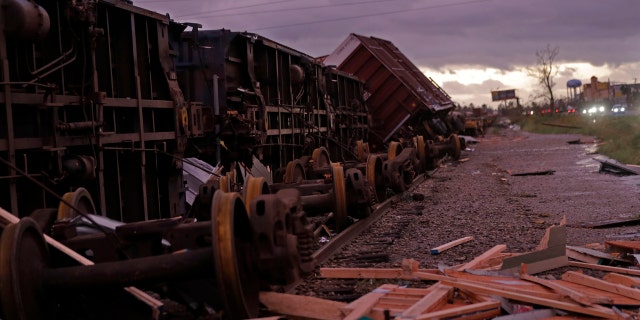 Derailed boxcars are seen in the aftermath of Hurricane Michael in Panama City, Fla., Wednesday, Oct. 10, 2018. (AP Photo/Gerald Herbert)
Extreme winds from Hurricane Michael gutted roofs and facades of beachfront condominiums in Panama City Beach, Fla., sending debris to the streets below.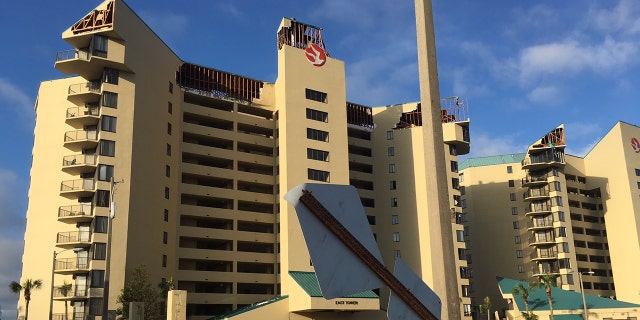 Damage to beachfront condominiums in Panama City Beach, Fla. from Hurricane Michael (Jonathan Serrie/Fox News)
HURRICANE MICHAEL'S HEALTH RISKS: 3 THINGS TO WATCH OUT FOR
Rescue workers are set to spend Thursday picking carefully through the wreckage in neighborhoods where people did not evacuate before Michael slammed the area. FEMA administrator Brock Long told "FOX & Friends" on Thursday that crews were only able to do "limited" search and rescue operations before nightfall.
"We are worried about the damage once we see sunrise," he said.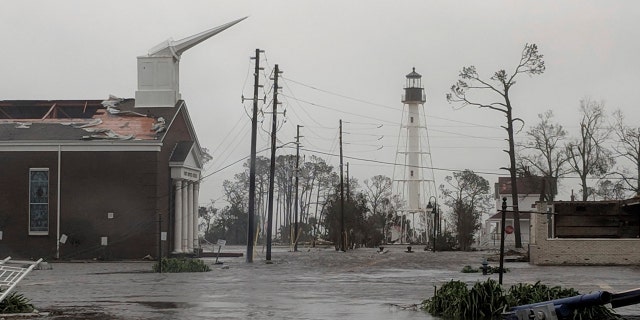 The First Baptist Church of Port St Joe, Fla., was significantly damaged when Hurricane Michael made landfall in the Florida Panhandle. (Douglas R. Clifford/The Tampa Bay Times via AP)
Florida Gov. Rick Scott said at a briefing on Thursday morning that so many families across the region have "lost everything."
"This morning, Florida's Gulf Coast, Panhandle and Big Bend are waking up to unimaginable destruction," Scott said. "This hurricane was an absolute monster."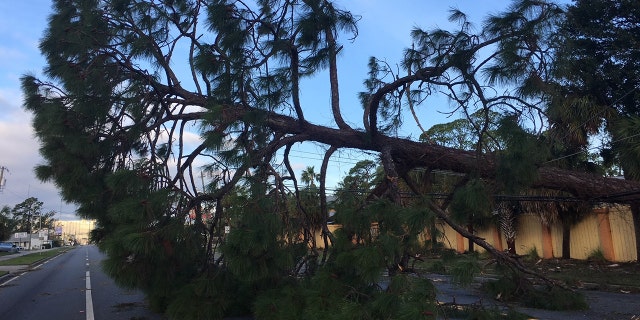 Trees lay strewn in Panama City Beach, Fla. after Hurricane Michael bore through the area.
The top focus for officials today is search and rescue, including a survey of the hardest-hit areas.
"Homes are gone. Businesses are gone. Roads and infrastructure along the storm's path have been destroyed," the governor said.
So far, the storm's deaths have included a Florida man killed by a tree that crashed through his roof and an 11-year-old Georgia girl who died when a car port rammed the family's mobile home.
At Tyndall Air Force Base, which took a direct hit from Michael, base officials said Thursday that they have found "widespread catastrophic damage" during an initial assessment of the facility.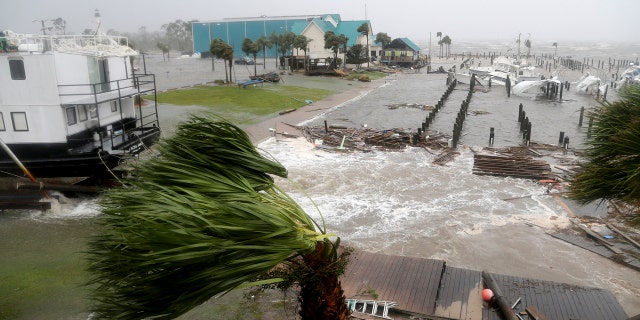 Boats lay sunk and damaged at the Port St. Joe Marina after Hurricane Michael slammed into the Florida Panhandle.(Douglas R. Clifford/Tampa Bay Times via AP)
Earlier this week, more than 50 F-22 stealth fighter jets were evacuated along with base personnel as the massive storm approached. As of Thursday, recovery teams conducted an initial assessment of portions of base housing and found "widespread roof damage" to nearly every home.
"At this point, Tyndall residents and evacuated personnel should remain at their safe location," Col. Brian Laidlaw, 325th Fighter Wing commander, said in a statement. "We are actively developing plans to reunite families and plan to provide safe passage back to base housing."
Rick Reichmuth, Fox News' chief meteorologist, said Michael was the fourth-most powerful storm to make landfall in the U.S. when measuring by wind, and the third-most powerful in terms of pressure, at 919 mb. Michael was the first storm of its magnitude to make landfall in the Panhandle since record-keeping there began in 1851.
Fox News' Jonathan Serrie in Panama City Beach, Fox News' Lucas Tomlinson, Stephen Sorace and The Associated Press contributed to this report.
Travis Fedschun is a reporter for FoxNews.com. Follow him on Twitter @travfed

John Elliott
Want to know more about John Elliott? Get their official bio, social pages & articles on WACO-FM!
Read more