Florida city commissioner shoots, kills alleged shoplifter, surveillance vi
The moment a Florida city commissioner shot and killed a man suspected of shoplifting from his store is seen in a stunning surveillance video released by authorities Monday, as prosecutors weigh whether the gun-toting store owner should face charges.
Lakeland City Commissioner Michael Dunn confronted Cristol Lopez at the Vets Army & Navy surplus store on Oct. 3 after Dunn suspected Lopez of shoplifting, the Lakeland Police Department said.
Police said at the time that Lopez -- a 50-year-old homeless felon who was staying at a nearby shelter -- had tried to leave the store with a hatchet down his pants, FOX13 reported.
In surveillance video released Monday, Dunn can be seen holding a gun in his right hand while attempting to keep Lopez from carrying the hatchet out of the store.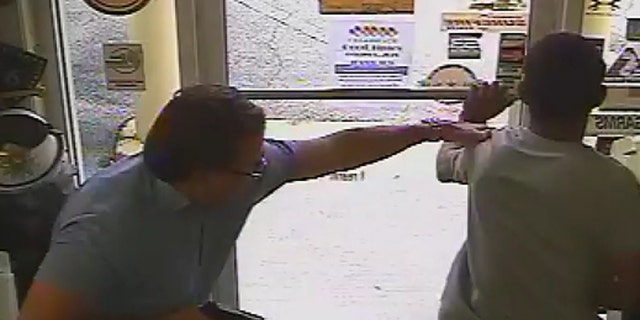 Lakeland Commissioner Michael Dunn confronted Cristobal Lopez after he was suspected of shoplifting a hatchet from his Army-Navy surplus store on Oct. 3. (Lakeland Police Department)
Dunn can then be seen grabbing Lopez by his shirt as the 50-year-old is able to get partially out the door. Lopez appears to be holding some type of object in his right hand. It is unclear in the video if the object is the hatchet that Lopez is suspected of trying to steal because the business' front door obstructs his hand.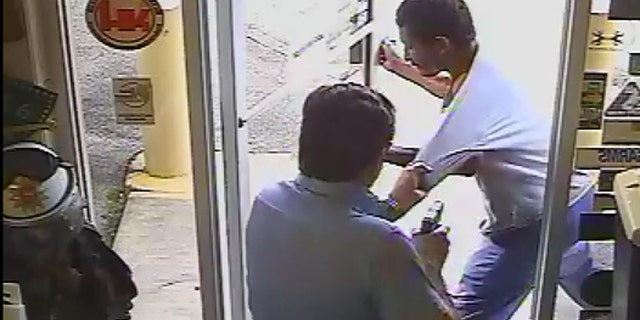 Lakeland Commissioner Michael Dunn holds a gun in his right hand while trying to keep Cristobal Lopez from carrying a hatchet out of his store on Oct. 3. (Lakeland Police Department)
As Lopez pulls free, Dunn fires two shots at Lopez, who then falls to the ground in front of the store. He later died from his injuries.
GUNMAN IN DEADLY FLORIDA 'STAND YOUR GROUND' CASE REENACTS SHOOTING IN POLICE VIDEO
The day after the shooting, Dunn's attorney told FOX13 that Dunn was in fear for his life at the time he fired at Lopez.
The moment before Lakeland Commissioner Michael Dunn opens fire on Cristobal Lopez, who he confronted for allegedly stealing a hatchet from his store. (Lakeland Police Department)
"[Lopez] was given that chance, and made a choice not to accept responsibility and wait for law enforcement to come, to have an investigation, so Michael had to do things under split seconds to protect himself, his business and his community," defense attorney Rusty Franklin said.
The Lakeland Police Department said Monday it was still investigating the shooting and the State Attorney's Office is deciding whether Dunn will face charges in the shooting. State Attorney Brian Haas told FOX13 on Monday the investigation into the incident should be wrapped up by the end of this week.
"Though citizens may have strong feelings about what is depicted, we ask you to remain patient as our department continues to work with the State Attorney's Office to investigate," police said.
Travis Fedschun is a reporter for FoxNews.com. Follow him on Twitter @travfed

John Elliott
Want to know more about John Elliott? Get their official bio, social pages & articles on WACO-FM!
Read more