'Cesspool' tourist island closed due to 'sewage issues' reopens to visitors
The popular Philippine resort island of Boracay, which President Rodrigo Duterte called a "cesspool" after learning of its sewage issues and environmental violations earlier this year, is in the first phase of reopening after closing to tourists in late April.
Once voted by Travel + Leisure as the "World's Best" island, Boracay remained closed for six months in order to deal with a reported 800 environmental violations stemming from "unchecked development," according to The Telegraph.
There had also been sewage infrastructure issues, a highly publicized problem that came to light following footage of sewage leaking into the ocean.
THAI BEACH MADE FAMOUS BY LEONARDO DICAPRIO MOVIE CLOSING TO TOURISTS INDEFINITELY
Now, authorities say cleanup efforts have paid off and bacteria levels are within international standards. The island reopened Monday to local Philippine tourists for 10 days, before an official, hopefully permanent reopening on Oct. 26.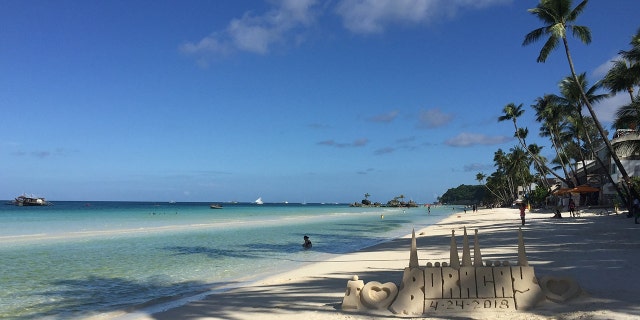 Boracay, seen here before its closure in April 2018, was once voted the world's best island by Travel + Leisure. (Girlie Linao/Picture Alliance via Getty Images)
Tourists, however, won't be able to enjoy the beaches as they have in the past. Visitors will not be allowed to smoke or drink in the public areas (only on the resort properties) and large parties will be prohibited as they were said to result in excess litter and garbage. Guests will only be allowed access to the island after presenting documentation that they will be staying at an approved hotel, too.
Other changes include restrictions to fireworks displays, a ban on cooking meats on the beach and regulations on the building of "giant sand castles," The Telegraph reports. Motorized watersports will also be suspended until the first week of December, according to Environment Secretary Roy Cimatu, per the Philippine News Agency.
The businesses and resorts, too, will need to abide by stricter regulations. A limit will be placed on the number of guests allowed per day, and resorts will not be allowed to provide single-use plastic utensils or straws to visitors. All hotels and businesses need to be approved by the Boracay Inter-Agency Task Force, which, as of Friday, had only approved 68 of the 455 hotels, ABS-CBN reported. Plans for an on-site casino have also been banned.
YACHT DECKHAND REVEALS SECRETS OF JOB: LUXURY TRAVEL, JEWELRY AND JOINING THE BOSS IN THE HOT TUB?
Ahead of Boracay's "dry run," Cimatu said Monday that the plans for the island – which will prioritize the needs of the island's residents – have turned Boracay into a "sight to behold," according to ABS-CBN.
"We now declare that Boracay is no longer a cesspool," he said.
Pictures shared from the reopening of Boracay, however, showed cups and trash littering parts of the beach as early as opening day on Monday, Cosmopolitan Philippines reported.
FOLLOW US ON FACEBOOK FOR MORE FOX LIFESTYLE NEWS
As reported in The Telegraph, Boracay saw as many as 2,000,000-plus visitors in 2017, which means that about a third of all tourists to the Philippines in 2017 stopped in Boracay at some point. The island itself is home to only 30,000 residents.

John Elliott
Want to know more about John Elliott? Get their official bio, social pages & articles on WACO-FM!
Read more