Miranda Lambert sings about getting her 'name changed back,' Twitter thinks
She doesn't want to be "a Mrs. on paper no more."
Miranda Lambert, with the help of her Pistol Annies bandmates, sang the group's scathing new song "Got My Name Changed Back" at the CMA Awards on Wednesday.
While Lambert previously said she won't share who the tune is about, fans were quick to point out that the feisty track appeared to be a hit on the country star's famous ex, Blake Shelton.
"Well I've got me an ex that I adored / But he got along good with a couple road whores / Got my name changed back," Lambert sang in front of her peers on the live award show.
While Shelton did not attend the CMAs, viewers took to Twitter to share their thoughts on the sassy song.
"I was so wishing they would've put the camera on Blake Shelton during Miranda Lambert's 'Got My Name Changed Back' #CMAs," one social media user wrote.
"@mirandalambert eat ur [heart] out @blakeshelton ... She Got her Name back now stand strong @mirandalambert," tweeted another person.
Wrote another individual: "Every song Miranda Lambert sings is def about Blake Shelton #CMAawards."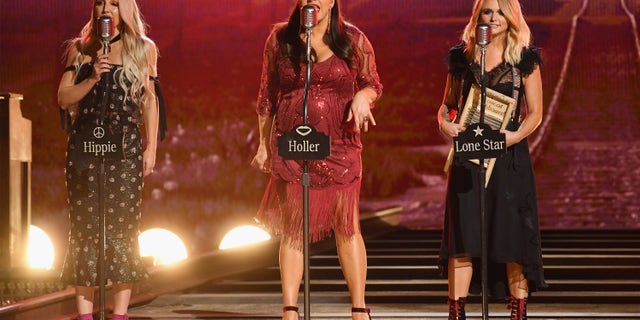 (From left) Ashley Monroe, Angaleena Presley, and Miranda Lambert of the Pistol Annies perform during the 52nd annual CMA Awards at the Bridgestone Arena in Nashville, Tennessee on November 14, 2018. (Getty)
MIRANDA LAMBERT GETS HER 'NAME CHANGED BACK' IN NEW PISTOL ANNIES MUSIC VIDEO
Others defended Shelton, 42, saying the song was "brutal."
"@mirandalambert... brutal.. I got my name changed back...... that was so bad...@blakeshelton deserves a lil love cmon," one Twitter user wrote.
Back in October, the Pistol Annies released a music video for the tune, which is about reclaiming singlehood. In the video, Lambert, Ashley Monroe and Angaleena Presley are seen entering a courthouse where Lambert happily takes the witness stand as Presley and Monroe look on.
"It takes a judge to get married, takes a judge to get divorced / Well the last couple years, spent a lotta time in court / Got my name changed back," Lambert sings. "Well I wanted somethin' new, then I wanted what I had / I got my name changed back."
The ladies have previously said they won't reveal who the inspiration is, but Presley did explain that there are two divorces and two ex-husbands between them.
"It was a feel-good divorce song that was needed," Presley told The Associated Press at the time. "You're welcome."
"We can say whatever we want together a little more bravely than we ever would alone," Lambert added. "Our whole catalog has been about celebrating things that weren't so positive and putting them in a humorous light."
The country singer also performed her duet "Drowns the Whiskey" with Jason Aldean earlier in the evening.
The Associated Press contributed to this report.

John Elliott
Want to know more about John Elliott? Get their official bio, social pages & articles on WACO-FM!
Read more