CNN star spars with Sarah Sanders in White House briefing room after tempor
CNN's Jim Acosta made his return to the James S. Brady room on Tuesday for a press briefing with Sarah Sanders -- 20 days after the reporter was temporarily banned from the White House.
Sanders, who until Tuesday hadn't held a briefing in weeks, took questions after sessions with National Economic Council Director Larry Kudlow and National Security Adviser John Bolton – during which Acosta kept quiet. The press secretary eventually called on Acosta, who asked if President Trump would recommend that Paul Manafort should cooperate with authorities going forward.
The questioning grew tenser -- though not nearly as explosive as the post-election incident that resulted in his pass being pulled -- as Acosta then asked why President Trump doesn't have faith in his advisers, citing the president's apparent skepticism toward a major government climate change study and the CIA's findings regarding Saudi Crown Prince Mohammed bin Salman's role in activist Jamal Khashoggi's killing.
Sanders shot back, "That's not accurate," as the CNN reporter listed a series of examples. He continued to ask the question but was met with pushback from Sanders.
"That's not true. The president has a great deal of faith in the intelligence community and, certainly, in the team he has assembled around him," she said before Acosta disagreed, citing intelligence related to the murder of Khashoggi as something Trump doesn't necessarily agree with.
"We haven't seen definitive evidence come from our intelligence community that ties [the Crown Prince of Saudi Arabia} directly to that," Sanders said before moving on.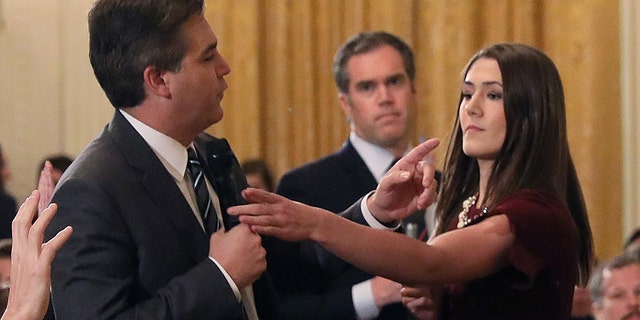 CNN's Jim Acosta questions U.S. President Donald Trump during his news conference following Tuesday's midterm U.S. congressional elections at the White House in Washington, U.S., November 7, 2018. REUTERS/Jonathan Ernst - RC189F0AFAA0
Acosta's "hard pass," which provides expedited access to the White House grounds, was suspended after he engaged in a contentious back-and-forth with President Trump during a Nov. 7 press conference. During the now-infamous moment, Acosta refused to pass the microphone to a female White House aide and there was brief contact between the two.
Acosta's press pass was restored on Nov. 19 after CNN argued that keeping him out of the White House violated the network and Acosta's First and Fifth Amendment rights. CNN's chief White House correspondent didn't miss a press briefing during his temporary absence, as Tuesday's event was Sanders first briefing since Oct. 29.
To coincide with Acosta being allowed to return to the White House, Sanders implemented a series of rules that will govern White House press conferences going forward. Journalists are now only permitted to ask one question and must yield the floor to another reporter unless a follow-up question is granted. However, a handful of reporters – including Acosta -- politely asked multiple questions during Tuesday's press briefing.
While Acosta appeared to technically violate the rules that were put in place as a result of his actions, Sanders didn't call him out and answered his second and third questions.
Acosta has emerged as a hero of the #Resistance after making a habit of shouting and interrupting when Trump and members of his administration are available to the media. The CNN reporter has been praised by liberal comedians such as Jimmy Kimmel and even appeared in the most recent season of the Netflix hit "House of Cards."
Brian Flood covers the media for Fox News. Follow him on Twitter at @briansflood.

John Elliott
Want to know more about John Elliott? Get their official bio, social pages & articles on WACO-FM!
Read more