Large Alaska earthquake jolts residents, shakes buildings
A 7.0 magnitude earthquake rocked the state of Alaska on Friday morning, churning up roads and sending office workers running to the streets in scenes locals described as pure "anarchy."
The U.S. Geological Survey said the earthquake was centered about 5 miles north of Anchorage, Alaska's largest city. There were no reported injuries.
"It was anarchy," Brandon Slaton, a resident of nearby Kenai, Alaska, told the Associated Press. "There's no pictures left on the walls, there's no power, there's no fish tank left. Everything that's not tied down is broke."
The National Weather Service issued a tsunami warning for the Cook Inlet and the Southern Kenai Peninsula shortly after the earthquake, but later canceled it. Police in Alaska's Kodiak island community had told residents to head to higher ground.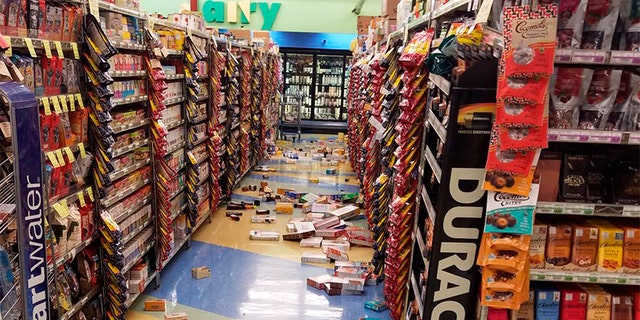 This photo provided by David Harper shows merchandise that fell off the shelves during an earthquake at a store in Anchorage, Alaska, on Friday. (AP)
An Associated Press reporter working in downtown Anchorage saw cracks in a 2-story building after the quake.
People went back inside buildings after the earthquake, but a smaller aftershock a short time later sent them running back into the streets again.
Slaton was alone and home and soaking in the bathtub when the Alaska earthquake struck.
He said the quake created a powerful back-and-forth sloshing in the bathtub and before he knew it, he'd been thrown out of the tub by the force of the waves.
His 120-pound mastiff panicked and tried to run down the stairs, but the house was swaying so much she was thrown off her feet and into a wall and tumbled to the base of the stairs, Slaton added.
Josh Bierma

@jlennyb

· 2h

This earthquake straight cracked my school in half

Josh Bierma

@jlennyb

1,71211:55 AM - Nov 30, 2018

Twitter Ads info and privacy
1,886 people are talking about this
A lawyer who spoke to the Associated Press called it the most "violent" earthquake he's experience in his 20 years in Anchorage.
Hank Graper says he was driving when the quake struck. He first thought his vehicle had a flat tire, then thought it was exploding. He realized it was an earthquake after he saw traffic poles swaying.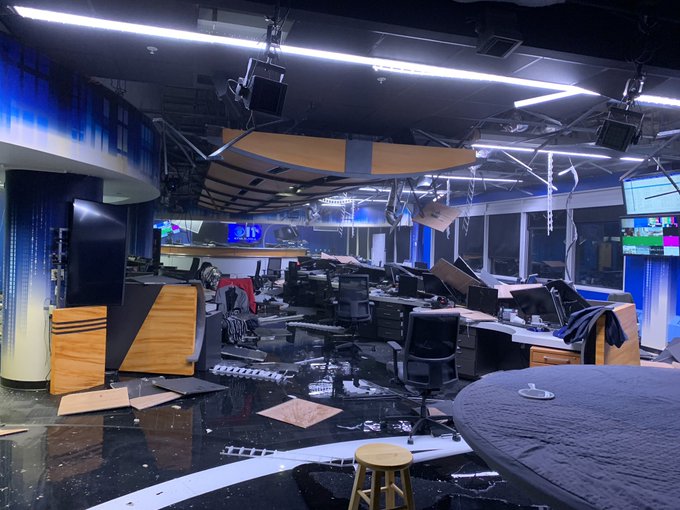 Cassie Schirm

@cassieschirmtv

KTVA's newsroom felt the blow of the earthquake this morning. #anchorage #alaska #earthquake #weather

2,35512:24 PM - Nov 30, 2018

· Anchorage, AK
2,799 people are talking about this
Alaska averages 40,000 earthquakes per year, with more large quakes than the other 49 states combined.
Southern Alaska has a high risk of earthquakes due to tectonic plates sliding past each other under the region. According to the U.S. Geological Survey, the Pacific plate is sliding northwestward and plunges beneath the North American plate in southern Alaska, the Alaska Peninsula and the Aleutian Islands.
On March 27, 1964, Alaska was hit by a magnitude 9.2 earthquake, the strongest recorded in U.S. history, centered about 75 miles east of Anchorage. The quake, which lasted about 4½ minutes, and the tsunami it triggered claimed about 130 lives.
ThorneSC

@ThorneSC

· 1hReplying to @ThorneSC

The video is geo-tagged in Chugiak, which looks to be NE of Anchorage.

ThorneSC

@ThorneSC

More footage from Anchorage via Snapchat maps. Prayers going up. pic.twitter.com/tSP7HWst0P

5312:39 PM - Nov 30, 2018

Twitter Ads info and privacy
57 people are talking about this
The Associated Press contributed to this report.

John Elliott
Want to know more about John Elliott? Get their official bio, social pages & articles on WACO-FM!
Read more