Trump announces short-term deal to end shutdown; vows to build wall despite
President Trump said Friday that he will support a short-term spending bill to re-open the government, temporarily ending the partial government shutdown that has dragged on for more than a month -- despite a day earlier saying Republicans would not "cave" on his demands for funding for a wall on the southern border.
"I am very proud to announce we have reached a deal to end the shutdown and reopen the federal government," he said to applause from gathered Cabinet members.
MCCARTHY BLASTS PELOSI FOR GIVING HOUSE '3-DAY WEEKEND' AMID GOVERNMENT SHUTDOWN
He said the deal would keep the government open for three weeks until Feb. 15 and that a bill would go before the Senate immediately. He made reference to his previous threats to declare a national emergency, calling it a "very powerful weapon," but saying he didn't want to use it. The deal appeared to include no money for a wall or steel barrier, but he said he hoped negotiations would continue to come to an agreement on wall funding.
"Walls should not be controversial," he said, before talking at length about the dangers of criminals and drugs coming across the border.
He later said that if no deal was reached and the government shut down again on Feb. 15, he would then use his presidential powers to address what he described as "a national emergency."
OPINION: THE COST OF THE SHUTDOWN (SO FAR): A STATISTICIAN'S ESTIMATE
"As commander-in-chief, my highest priority is the defense of our great country," he said. "We cannot surrender operational contol over our nation's borders to foreign cartels, tarffickers and smugglers."
The shutdown was sparked by disagreement over President Trump's demand for $5.7 billion in funding for a wall or steel barrier on the southern border. Democrats countered initially with $1.3 billion for general border security, while Trump said initially he would not sign anything without wall funding. Democrats had called on Trump to re-open the government, and only then would they discuss border security.
Senate Majority Leader Mitch McConnell, R-Ky., said on the Senate floor that he supports the president's plan to re-open the government and called on Democrats to come to the table and negotiate.
"Going forward, I hope Democrats will stay true to the commitment they have stated constantly over the past weeks – that once government was re-opened, they would be perfectly willing to negotiate in good faith on full-year government funding that would include a significant investment in urgently needed border security measures, including physical barriers," he said.
His Democratic counterpart, Chuck Schumer, D-N.Y., declared it "great news for millions of Americans" and said it allowed Democrats and Republicans to negotiate "without holding workers hostage."
In the last few weeks, the fight turned particularly nasty -- with Trump canceling a Democratic congressional trip to Afghanistan after House Speaker Nancy Pelosi called on Trump to delay his State of the Union address or submit it in writing. Trump announced Thursday that he would delay the address, but if the government re-opens then it could take place on Tuesday as had been previously scheduled.
Fox was told that the House is expected to advance the bill to re-open the government in the early evening of Friday.
After bills to re-open the government failed in the Senate Thursday, Trump had signaled that a "large down payment" on funding, potentially less than the $5.7 billion, could be sufficient to end the stalemate. He suggested that a "prorated down payment" on the wall, without providing a concrete dollar figure, could be viable.
Sen. Lindsey Graham, R-S.C., had previously suggested that a three-week continuing resolution could be the way forward.
The partial closure of the government has led to hundreds of thousands of workers furloughed or working without pay, with groups representing the workers increasing their calls for D.C. to end the deadlock and get workers paid again. Many workers missed their second paycheck on Friday.
UNIONS REPRESENTING AIR TRAFFIC CONTROLLERS, PILOTS AND FLIGHT ATTENDANTS EXPRESS 'GROWING CONCERN' FOR SAFETY AMID SHUTDOWN
Every former secretary of the Department of Homeland Security, including former White House chief of staff John Kelly, sent a letter to the president and Congress on Thursday asking them restore the department's funding.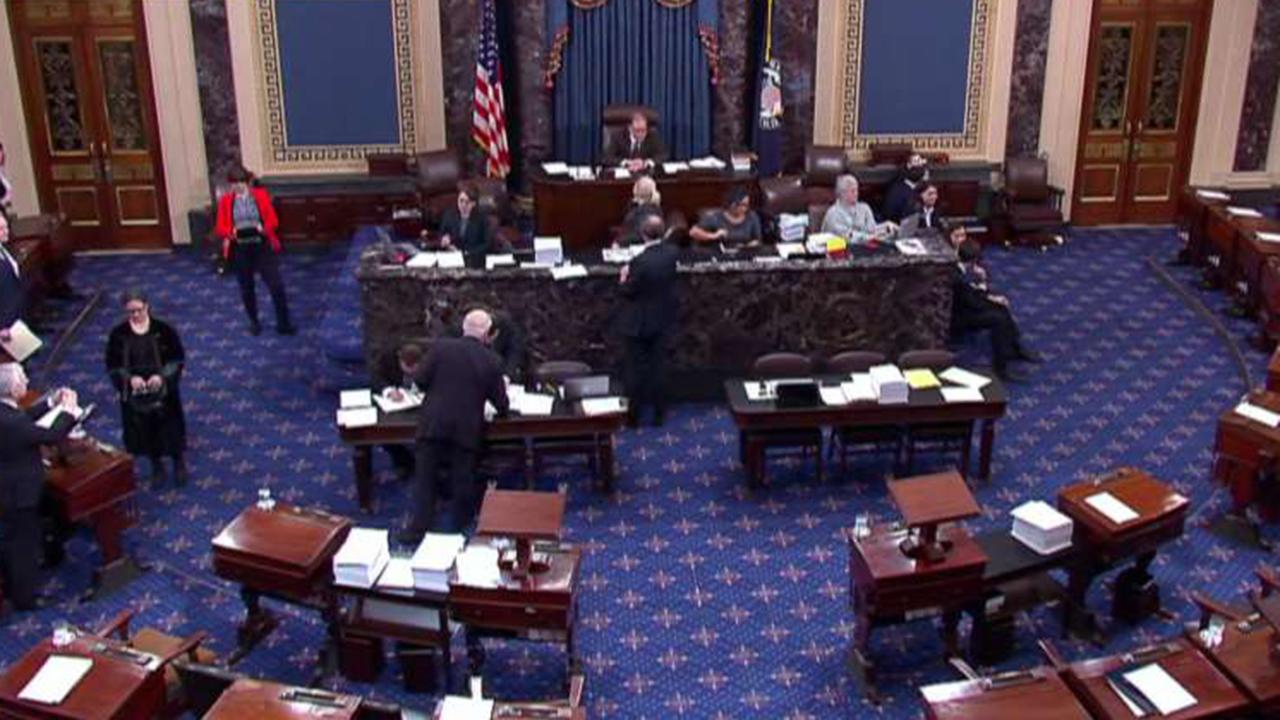 Video
"DHS employees who protect the traveling public, investigate and counter terrorism, and protect critical infrastructure should not have to rely on the charitable generosity of others for assistance in feeding their families and paying their bills while they steadfastly focus on the mission at hand," the letter said. "This is unconscionable."
CLICK HERE TO GET THE FOX NEWS APP
President Trump on Saturday announced a compromise plan that funded the wall while extending protections for 700,000 illegal immigrants brought to the country as children and 300,000 immigrants from countries designated unsafe to return. However, Democrats rejected the plan even before Trump announced it, and a Senate version of the plan failed to get the 60 votes needed on Thursday. A second bill, already passed by the Democrat-controlled House to re-open the government, also fell short.
Donald J. Trump

✔

@realDonaldTrump

Nancy just said she "just doesn't understand why?" Very simply, without a Wall it all doesn't work. Our Country has a chance to greatly reduce Crime, Human Trafficking, Gangs and Drugs. Should have been done for decades. We will not Cave!

178K10:16 AM - Jan 24, 2019

Twitter Ads info and privacy
110K people are talking about this
On Thursday, Trump had promised that Republicans "will not cave" on border wall demands.
Fox News' John Roberts, Mike Emanuel, Chad Pergram, Kevin Kirby, Alex Pappas and Gregg Re contributed to this report.

John Elliott
Want to know more about John Elliott? Get their official bio, social pages & articles on WACO-FM!
Read more